2021 NHL season starts tonight
The 2021 NHL Season will be one that fans have never seen before and will likely never see again. The National Hockey League and the NHL Players' Association reached an agreement on Dec. 20 to play a 56 game season starting on Jan. 13. Included in this decision are new divisions for this year and other details.
Divisions
Containing the coronavirus has been a concern since day one. Given these concerns, the NHL has decided to create new divisions that are more specific to geographic location. In order to reduce the spread of the virus, teams will only be allowed to play other teams from that division through the remainder of the season. 
North Division
Teams: Vancouver Canucks, Calgary Flames, Edmonton Oilers, Winnipeg Jets, Toronto Maple Leafs, Ottawa Senators, Montreal Canadiens.
The North Division contains only teams from north of the border. This All-Canadian division will host several intense rivalries like the Flames and Oilers, along with Maple Leafs and Canadiens. The travel will be extensive, some trips totaling over 4,400 miles round trip. These long trips will make it highly difficult for teams on opposite coasts to compete at a high level for the entire 5 month season. However, only time will tell how effective this large division will be.
East Division
Teams: Washington Capitals, Pittsburgh Penguins, Philadelphia Flyers, New Jersey Devils, New York Islanders, New York Rangers, Boston Bruins, Buffalo Sabres.
The East Division's worst enemy is themselves. The division will be by far the most talented and in turn will be the hardest division to play in. 8 of the 9 teams tallied at least 75 points last season. The division contains consistent powerhouses like the Bruins and Capitals, along with newly feared teams like the Flyers and Islanders. The Ranger's quick rebuild places them as a dangerous opponent as well with loads of young talent. The East will be the division to watch in 2021.
Central Division
Teams: Dallas Stars, Nashville Predators, Detroit Red Wings, Tampa Bay Lightning, Florida Panthers, Columbus Blue Jackets, Carolina Hurricanes, Chicago Blackhawks. 
The central division poses as another powerful division, housing both cup finalists from 2020 in Tampa Bay and Dallas. The division does house some weak links like Detroit who only mustered 39 points last year; however, the Bluejackets and Hurricanes moving over from the Metropolitan division should keep this central division interesting.
West Division
Teams: Vegas Golden Knights, St.Louis Blues, Colorado Avalanche, Anaheim Ducks, Phoenix Coyotes, San Jose Sharks, Minnesota Wild, Los Angeles Kings.
The West poses many challenges, mainly due to travel,  as some teams are located on the west coast, and others are as far East as the Mississippi River. Regardless, Vegas, St.Louis, and Colorado should provide as the top competitors for the division title, with stragglers such as Chicago, San Jose, Los Angeles, and Minnesota coming off of rough 2019-20 seasons.
Opening Night
Opening night of the 2021 NHL season will take place tonight, Jan.13. There will be 5 games played across all 4 divisions. 
Pittsburgh Penguins @ Philadelphia Flyers 5:30 PM ET
Sidney Crosby and the Pittsburgh Penguins will travel to their interstate rivals in Philadelphia to kick off the 2021 NHL season. The two Pennsylvania teams finished within 3 points of each other last season so this matchup should pose as an excellent kickstarters.
Montreal Canadiens @ Toronto Maple Leafs 7:00 PM ET
An Original Six battle will be played in Toronto as Auston Matthews and the Maple Leafs will host Shea Weber and the Canadiens. The matchup will be the first showcase of the history Canadian only division, which should only be featured this year.
Chicago Blackhawks @ Tampa Bay Lightning 8:00 PM ET
The Chicago Blackhawks will have to visit the defending Stanley Cup Champions without their captain Jonathan Toews. Tampa Bay looks to defend their title outside of the bubble, playing in a new division.
Vancouver Canucks @ Edmonton Oilers 10:00 PM ET
A West Canada battle is set to take place in Edmonton as the Oilers will host the Canucks. Vancouver will miss two players, J.T. Miller and Jordie Benn due to COVID-19 protocol. This will play as an advantage to an Oilers team, who placed higher in the division than Vancouver last year by 5 points.
St.Louis Blues @ Colorado Avalanche 10:30 PM ET
To finish off the night, St. Louis will travel to Denver to take on the Avalanche. St. Louis was terrific last season, but was upset by Vancouver in the first round of the playoffs. Now, the Blues are looking for redemption by getting back to their winning ways against their division rivals.
About the Writer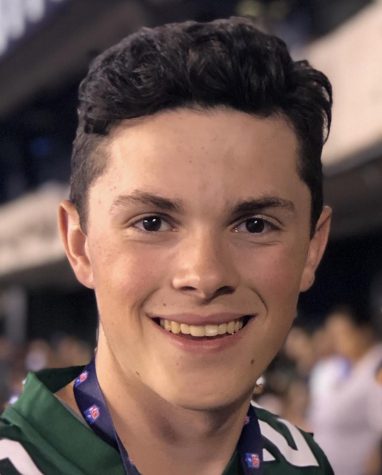 Aidan Garvey, Sports Editor
While playing sports throughout my life, I fell in love with not only the physical activity and team aspect, I also came to enjoy the journalistic aspect...