DHS students reflect on Stop Asian Hate movement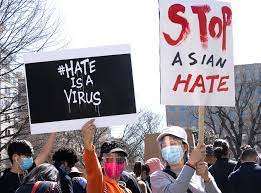 Conversations on the surge in Asian-American and Pacific Islander hate crimes during the pandemic have become rapt following a mass shooting on Mar. 16. Robert Long, a white man, fatally shot eight people, six of which were of Asian descent, across three Atlanta-area spas. He is currently facing charges of four counts of murder and one of aggravated assault. 
Despite Long having claimed that his actions weren't "racially motivated" but rather a result of his "sex addiction," the fact that 75 percent of his victims were Asian, Atlanta Cherokee County Sheriff's Office's Captain Jay Baker's claim that Long was simply "having a bad day," Baker's Facebook posts calling COVID-19 the "China virus," and other factors involving Long's case brought attention to the number of hate crimes committed against the AAPI (Asian-American and Pacific Islander) community and the lack of energy put towards stopping said crimes. 
There were 3,795 hateful incidents reported to Stop AAPI Hate from Mar. 19, 2020, to Feb. 28, 2021 – a significant rise from 2,600 hate incidents reported the year prior. Verbal harassment and shunning make up 88.6 percent of total incidents reported, with physical assault, civil rights violations, and online harassment making up the rest. 42.2 percent of those reporting incidents identified as ethnically Chinese, and women reported 2.3 times more hate incidents than men. Many of these reports involved individuals being blamed for the pandemic or being called racial slurs. 
The organization makes it clear that these incidents are only a fraction of the amount of AAPI hate crimes that have actually occurred across the US during the pandemic, crimes largely motivated by systemic racism and numerous public officials deeming COVID-19 as "the China virus." 
AAPI racism stems from far beyond the pandemic itself and is deeply rooted in American history. "We all know of America's deep-rooted racism against Asians: exploitation during railroad construction, the Chinese Exclusion Act, Japanese internment camps in World War II, media slander over China and communism, and now, conflating COVID-19 with Asians," Senior Kazi Begum expressed. There's a cycle present throughout American history: businesses relying on cheap Asian labor, which strikes fear in white persons, which then prompts the elite to stoke those fears with anti-Asian rhetoric. "And that's just what we're taught in school." 
"It's even more crushing to think about the disproportionate rates of harassment and racism Asian-American women face. As one myself, I know it all too well," Begum continued. For centuries, Asian women have been seen as docile, submissive, and weak, a stereotype that has been reinforced through their over-sexualization in the porn industry and the media. Many like Begum are left wondering how much the "intersection of racism and misogyny," as well as the cultural stereotypes surrounding Asian women, played a role in the aforementioned incidents. 
There also comes the issue of Asians being presented as the "model minority." While it is true that Asians have the highest employment rates and education levels of any racial group in the United States, portraying every single Asian with the "model minority" stereotype – being academically and financially successful – only further alienates the Asian community from other non-white groups and renders invisible the struggles of many Asians living in the US.
There are large differences in economic and social positions within the Asian-American community. Three-quarters of Indians in the US have at least a bachelor's degree while one-fifth of Vietnamese in the US hold less than a high school diploma. Unemployment rates may be lower overall, but Asians – particularly Chinese and Filipino groups – are much more likely to be unemployed for longer. There is a 25 to 1 economic gap between subgroups in the Asian community. The model minority is far from the truth for most Asians and Pacific Islanders living in the United States.
Many Asian students at DHS want to ensure that their peers remember the "Stop AAPI Hate" movement moving forward. "I would love it and would feel really supported if teachers at school made a statement about [the movement]," Senior Sasha Palmer expressed. "I haven't heard anything except from students and one teacher asking if I'm okay." She also went on to mention that it's great that the struggles the AAPI community faces are being brought to light, but that she wishes people had spoken out more when officials like former President Donald Trump were using terms like the "China virus" a year ago.
Senior Lasya Josyula agrees, and she hopes that people will continue to speak out beyond the span of media attention. "Asian-American sentiments have been around before COVID-19, and no one knows this better than the Asian-American community. I think it's important to confront your own prejudices and reflect on who you've interacted with Asian people in your life."