Behind The Brains of Danbury High School's Programmers
Danbury High School is filled with a plethora of competitive teams. While students often recognize the dedication of many athletic teams, there are many more extracurricular teams that represent Danbury High School nationwide. Specifically in the STEM field, one of the most underrated yet unstoppable teams for Danbury High School is the Hatters Robotics Team, led under Mr. Savoyski. Members of the Robotics Team spend countless hours in school, and at home, to perfect the robots they create. Their consistent dedication deserves the utmost recognition. 
When asked how to explain robotics to someone who has never heard of the team, Eric Guo explains, "our robotics team participates in the VEX robotics competition. That is where the competition administration releases a game every year, and robotics teams like us, build robots to play the game as best as possible." This year's challenge consists of building a robot that can shoot 5" discs into a frisbee golf goal, similar to throwing a ball into a goal. Danbury High School has seven teams: D, E, F, H, J, K, and Z. With the current standings, D, H, and J are qualified to go to regionals. Currently, team H is qualified to participate in worlds. The rankings of these teams are subject to change as the year progresses and more competitions occur. 
Robotics truly is an outlet for students to spread their creativity, yet the time commitment is undeniable. Many students who are dedicated to robotics are amongst the top students of their classes, most members taking an average of four AP classes per year. During a regular week, members stay at school for ten extra hours. During competition weeks, meetings span around twenty hours cumulatively. Izzah Nishad explains, "On these late nights, the team stays till 10 PM working on the robot the Friday before the competition. The next day normally requires getting to school at 5:30 AM, and only returning by 4 PM." While this work schedule may seem extremely strenuous, this is the bare minimum expected of members. Individuals who are especially dedicated often work on their robot during FLEX, or take their robot home to work on it more after school. 
Sharva Karthikeyan, a senior member of robotics, remarks, "Robotics teaches (or rather forces you to learn) time management. No matter how much homework we have, we stay [in] A207 till the robot is built." Students are often forced to juggle adequately sleeping, thoroughly studying, completing homework, and finishing their robot. However, the many hours spent in robotics develops skills in its members surrounding teamwork and problem solving. Karthikeyan reminisces, "Our Robotics Team is a great community where I met some of my closest friends. Being on the team since freshman year, I have learned how to work with all types of people through all types of challenges while making the best of memories." 
Despite the many hours of dedication, robotics has become a highlight for the high school career of many students. Nishad explains, "Before robotics, I didn't have much to enjoy or something to devote myself to. Ever since I joined a year ago, my high school experience has changed for the better. Overall, it has made my life a lot more interesting." Despite the preconceived notions of only certain people being able to thrive in robotics, the team prides itself in its diverse members with a variety of skills. Izzah Nishad shares, "Although the club is predominantly male, girls seem to fit in naturally with the group. As a girl in a mainly guy team, the boys make me feel included and like I have a larger role within the team." Izzah Nishad's account proves robotics is welcoming to anyone that is interested, the only requirement is dedication. 
Ultimately, the Danbury High School Robotics Team does not lack an ounce of hard work and persistence. The countless hours that members spend working on robots do not go unnoticed. The team has won many awards, and is continuing to do so. The skills learned through robotics will prepare its members who often plan to pursue careers in computer science and engineering. The skills of persistence, time management, and problem solving will be beneficial to members regardless of their career. The Hatters Herald recognizes the work of the Robotics Team, and wishes them the best of luck in their future competitions.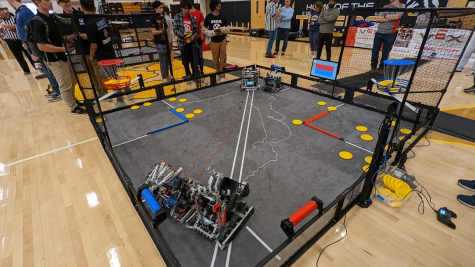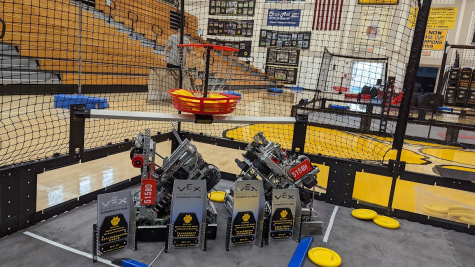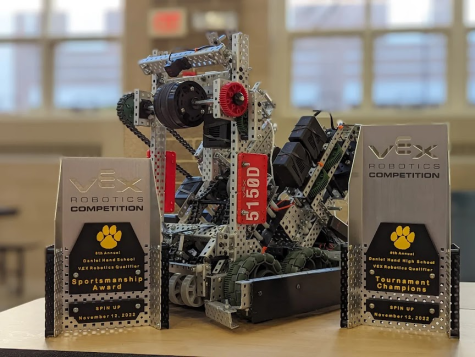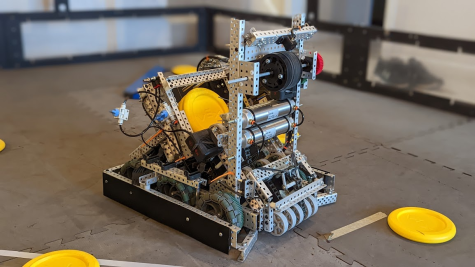 Important events to look forward to:
Southern New England Regionals (March 3rd-5th): A World Qualifying Tournament where the top 80 teams from Massachusetts, Connecticut, and Rhode Island compete for 16 spots to go to Worlds. 
Vex Robotics Worlds (April): Hosted in Dallas, hundreds of high school teams across the world compete in numerous divisions to be world champions. Teams come from various places including the United States, Canada, China, Taiwan, and the United Kingdom.