Damar Hamlin's Recovery: Tragedy Striking the NFL
The Buffalo Bills and the Cincinnati Bengals squared off in Cincinnati on Monday night (1/2) in a critical matchup to determine playoff seeding for the AFC standings with the NFL postseason approaching soon. However, tragedy unfortunately struck. Bills safety Damar Hamlin went for a tackle on Bengals wide receiver Tee Higgins who lowered his helmet and struck Hamlin directly on his heart. The 24-year-old went down and was unresponsive, and his defensive teammates and the trainer could sense something was wrong. Hamlin's pulse and breathing were unresponsive. The ambulance and medics had to rush to Damar, surrounded by his teammates and Cincinnati players, for privacy. Hamlin received CPR for 10 minutes until a pulse was recognized and he was rushed to the University of Cincinnati Medical Center. Hamlin remained sedated on a ventilator as doctors worked to get him to breathe independently. It was later recognized and surfaced everywhere on Twitter that Hamlin suffered a cardiac arrest.
The good news is that Damar Hamlin is now breathing on his own, but he was still admitted to the hospital but was transferred to the Buffalo General Medical Center, in his hometown. Damar Hamlin awoke this past week where the first words that came from him were; 'Did we win?'  MD Timothy Pritts told Hamlin; 'Yes, Damar, you won. You won the game of life.' This proceeded to become extremely popular, and Damar is now in the process of marketing shirts that say "Did we win?" to show support to Damar Hamlin's family, and the NFL as well. The shirts 'Love for Damar' also surfaced around the NFL, as players wore them before their games this past Sunday. (1/8)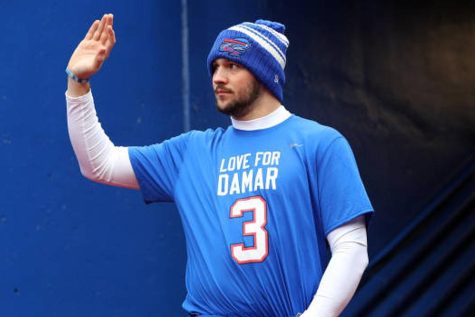 This past Sunday (1/8) the NFL and teams showed support Damar, decorating their stadiums with the number 3, and even players wearing shirts to show support for Damar. The Bills however had the number 3 embedded into their jerseys for their Sunday matchup versus the New England Patriots. The game was an emotional one, as in the first play of the game the Bills returned a kickoff for a touchdown. Damar Hamlin was so excited in the ICU that he sent off every alarm in the ICU. (per MD Timothy Pritts) The Bills proceeded to win the game by a score of 35-23, and the emotions in Highmark Stadium were noticeable 
As the incident was scary regarding Hamlin, his recovery is proceeding as planned. The love and support shown to Hamlin around the NFL cannot go unnoticed, and we all wish him and his family a safe recovery. 
Sources for qoutes
https://www.foxnews.com/sports/damar-hamlins-doctors-recall-him-setting-every-alarm-off-in-icu-response-bills-kickoff-return-td