Senior scoops up ice-cream business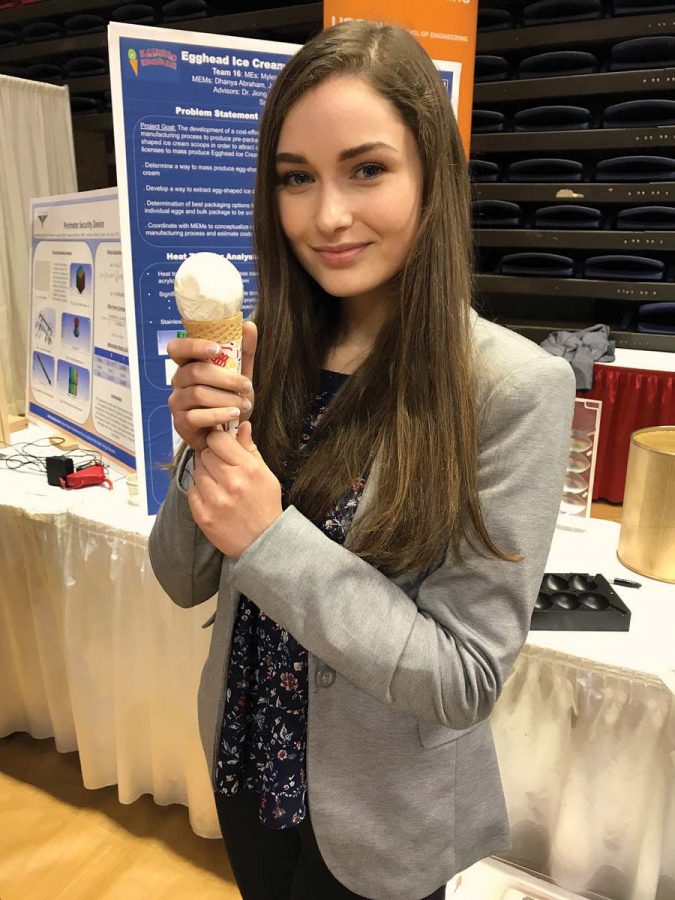 The Connecticut Invention Convention, an internationally recognized entrepreneurship conference, annually gives out awards to middle schoolers with exceptional ideas. Hannah Pucci, senior, took on the challenge in 2011 and created pre-portioned ice cream scoops for hassle-free dessert.
At the convention, Pucci was granted the Blue Ribbon and The Whole Foods Sponsor Award, giving her the initial boost for her concept.
"[The deadline] was approaching and I still didn't have my idea," Pucci said. "I actually found it when I stopped looking. My mom was in the kitchen [scooping ice cream] and it came to me: What if there was an easier way to [serve it]?"
Pucci quickly got to work with her idea, giving it the name "Egghead." The plan was to create pre-portioned scoops that would fit in a cone for quick, portioned serving. "The mold I used at first was the plastic eggs you get at Easter," Pucci explained. "That's really when it started coming together."
The scoops are packaged in egg carton, hence the "Egghead" moniker.
After winning the ribbon from the convention, Kim Pucci, Hannah's mother, urged her to pursue the idea. Kim Pucci reached out to several companies on behalf of her daughter in an attempt to get the idea recognized. Dippin' Dots and Baskin Robbins Ice Cream both became Pucci's marketing mentors.
She applied for a patent to protect her idea, and it was granted in 2016. After years of working with the product, Pucci is close to getting her product to the shelves of local grocery stores.
UCONN, the host of the Invention Convention, took on Pucci's idea for its "Senior Design Project" for the school of engineering last year. The students worked to create a cost-effective, high volume production prototype. "It's still not done," Pucci said. "I'm still trying to figure out [the logistics.]"
To help her find a solution to the production process, Pucci applied for a grant. With having four-years of Egghead under her belt already, she presented her idea in front of a "Shark Tank" like panel of entrepreneurs who would ultimately decide who won the grant.
Pucci was awarded the grant of $10,000, and finally, her plan had hatched. "She was destined to get it. Not many juniors in high school are [involved] with multi-million dollar companies, and even fewer have an official patent," said Olivia Babbino, senior.
This summer, Egghead was tested at UCONN's dairy bar using techniques similar to which is expected to be used for future production.
Friends and family alike view Pucci's accomplishments as inspiring. "Hannah is a well-adapted, go-getter who puts forth time and energy into all of her endeavors," said senior Julia Hyatt, a childhood friend of Pucci's. "She's been destined for great things since elementary school."
Between wrapping up her final year of high school, managing a startup company, having an after-school job and still making time for friends, it is evident that Pucci shows a strong business acumen.
Although the idea isn't ready for your freezer, Pucci is determined to "have it on the shelves of the grocery stores across America" in the near future.
About the Contributors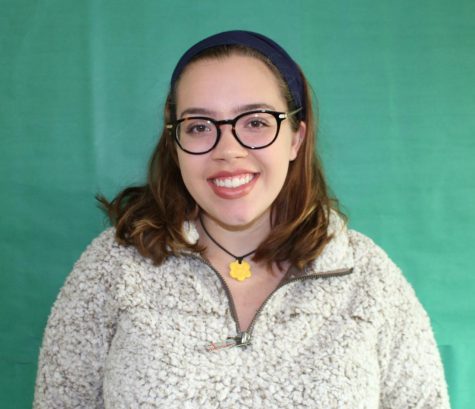 Taylor Hay, Staff Writer
My name is Taylor Hay, and I am an aspiring novelist/avid book enthusiast. I am a recipient of over six poetry, short story, and flash fiction awards and...