New fashion club serves as an outlet for creativity
Naomi Thomas Arts & Clubs Senior Editor
The Young Fashion Designers Club has joined the list of clubs offered at DHS this year. The organization was founded by five seniors with a vision: Camilo Diaz, Nicholas Gomez, Chris Guamán, Michael Landivar, and Shivani Patel.
The club serves as an outlet for students to express themselves through fashion as well as a place to meet new friends. "People need to be able to express themselves and their individuality," Guamán stated.
Landivar, who was voted "Best Dressed" for senior superlatives, wants to make the club a haven for students to feel comfortable and gain confidence. He says that "a lot of people are insecure about themselves, especially young people. They don't know themselves yet and we want to help them."
Patel concurred, adding, "We made it clear from the beginning that we accept everyone's ideas. We want to make this a comfortable environment for everybody."
Gomez said he believes fashion not only promotes expression but fosters acceptance. "In fashion, there's a lot of weird things you'll see," he explained. "Some things you won't understand. It just made me more open-minded and more respectful."
The group members agree that fashion is a great opportunity to reflect the culture and heritage of the community. Patel said that "it brings together all the diversity we have in the school."
Most of the officers hope to pursue fashion in the future. Landivar has already attended a summer program at the Fashion Institute of Technology in New York and aspires to be a fashion designer. His interest in clothing came from an early age.
"I found myself sketching in class," he admits. "I didn't pay attention to class, I'd only pay attention to the notebook underneath. And from that point on, I realized that I could actually do something, follow a passion, that I could actually express myself."
Landivar is currently working on creating an original clothing company with Gomez.
Diaz, Guamán, and Gomez also voiced an interest in FIT. Diaz said he hopes to study streetwear and Guamán said that he's part of a pre-college program and is currently working on his portfolio for the school.
"They really impress me," Elisa Merola, the club adviser, said. "They have a vision and they make it happen and all the club members follow suit. They're all really passionate and I'm honored to get to watch every week."
Around 40 members have already joined the club and there's about 40 more on the waiting list. The officers hope to expand the club but are restricted by the limited space of the classroom.
As for future plans, Landivar said that "by the end of the year we hope to do a runway [show]." They also discussed doing projects such as recycling clothes and hosting a clothing drive to help give back to the community.
They all said they hope the club is around for a while. They want it to be a place that continues to spark creativity within students.
"You might think you're not creative, but you probably are," Landivar stressed. "Everyone has a creative side."
"You don't need any experience," Gomez added. "You could come in and make a simple tee with a stickman on it. It's that easy. That's the good part of fashion. Anyone can be a part of it."
About the Contributor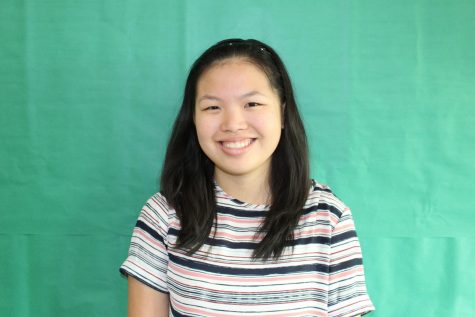 Gillian Brown, Staff Writer
For as long as I can remember, I've always had a love for writing. Whether it be creative writing, poetry, or nonfiction, it's always been an outlet...