Students seek refuge from Puerto Rican hurricanes at DHS
Hang on for a minute...we're trying to find some more stories you might like.
The recent hurricanes, Maria and Irma, that devastated Puerto Rico in October also left many students without schools or any way to continue their education — so they sought refuge in Danbury and DHS.

Sporadically starting at the beginning of November, six students have come to DHS with one having already returned to their home. These students are all different ages and had no connection with each other besides the shared reminiscence of their destroyed homes.

As the rehabilitation of Puerto Rico has been so unpredictable, Principal Dan Donovan is unsure if DHS can expect any more students to come.

""I think they tried to wait [the recovery] out down there but they're realizing it is going to be a long process," Donovan said. "But the more schools that open up down there the less we'll see up here."

For two students, though — senior Nataly Negron and sophomore Liz Rivera — departure from Danbury isn't in the foreseeable future.

"All the schools were affected by the passage of the hurricanes," Rivera said. "My school closed down and I had to continue my studies somehow. My uncle lives here so I decided to come to Danbury."

Donovan welcomes the students as he says that it will also benefit the student body, staff, and faculty to understand the situation and the trauma that accompanied the natural disasters.

Everyone has been welcoming, in general, according to the two.

"

So far my experience here in Danbury has been amazing. It's something new and everyone has received me with a lot of love and support"

— Nataly Negron

Negron says, "So far my experience here in Danbury has been amazing. It's something new and everyone has received me with a lot of love and support."

Donovan speaks to this as a trend for the people of DHS. "Our students are always awesome with rallying to support their peers, I could ask anyone to help out and they would bend over backwards to assist the Puerto Rican students."

Negron also said that Danbury will provide her with many more opportunities than she would've had in Puerto Rico; so, she plans to make the best of her stay here.

However, Danbury hasn't been without its share of difficulties. Adjusting to the language was hard for both Negron and Rivera. Rivera is not yet fluent in English and has trouble with holding conversations with people who don't speak Spanish, though she can understand the language rather well.

"It's really hard communicating because I don't speak English – it can get very frustrating," said Rivera, using an app on her phone to translate what she wants to say.

Another problem was adjusting to the different type of school.

"[This school] is super big," Negron says with a laugh. "Also in the school of Puerto Rico to which I belonged to was a vocational school. This means that you can study regular classes plus a speciality — my specialty was in the billing workshop of medical plans — so this is different."

Having to leave friends and family in Puerto Rico was especially troubling for them. They continue to miss them and only recently was the signal restored to Puerto Rico so that they could finally communicate, according to Negron.

Rivera, however, said that schooling comes first to her. She says, "I am very sad, but I needed to continue my studies, so this was just something I had to do."

In terms of DHS, though, the addition of these students had no effect on the logistics of the school.

Danbury has a substantial staff of bilingual teachers who were useful for helping Negron, Rivera, and the other English-learning students continue their educations without the pressure of also attempting to translate what the teacher is saying in class.

Though the school is quite large with more than 3,000 students, there was no trouble fitting more students into classes.

"We get about 200 students in and 200 out every year," Donovan said. "Everything evens out and these six were no different. While they came in, roughly six students probably left."

Despite the losses in Puerto Rico, both students remain thankful of Danbury for providing them with the opportunity to continue their education and they are enjoying their time here.

"Danbury suits me," Negron said.  

About the Contributor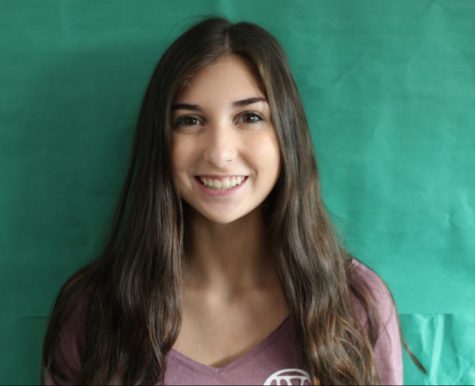 Meghan Edwards, News Editor
My name is Meghan Edwards and I am the News Editor for the Hatters' Herald year of 2017-2018. Last year, as a junior, I decided to take journalism to...