Students weigh whether to take SAT or ACT
Hang on for a minute...we're trying to find some more stories you might like.
Right or wrong, standardized testing today has become a powerful measure of one's intelligence. It's a measure colleges and other programs take to determine an applicant's significance to their respective programs, as well as scholarship money. With this pressure comes the stressful decision on which test would be best for them, the ACT or the SAT.
Students can take both the ACT and SAT and are allowed to take them as many times as they would like. Seniors Gaia Mistriel, Nick Walker, and Mohammad Habib ended up taking both tests to determine which test was a better fit for their applications.
The first College Board SAT took place in 1926, then-called "Scholastic Aptitude Test," which introduced multiple-choice questions. The American College Testing, or ACT, was created by in 1959 as a competitor to the SAT. The goal for the ACT was that it wouldn't only focus on test cognitive reasoning. It would include the information actually learned in school.
"
I recommend sticking with one exam and improving your score. Colleges are looking for one score and having two bad scores are worse than having one really good score."
— Mohammad Habib
The ACT was also more focused on identifying strengths and weaknesses to guide student placement, while the SAT determined cognitive reasoning strength across the board.
The SAT, scored out of 1600, includes reading, writing and language, math no-calculator and math calculator-approved sections. Whereas, the ACT, scored out of 36, has English, math, reading, and science sections; in addition both of these tests contain an optional essay.
DHS gives juniors an opportunity to take the SAT's without the writing portion; this year's is scheduled March 21. This allows juniors to take the test free of charge and also be utilized as a standardized test for the school to use for data. Karen Chance, guidance counselor, explained that the school offers the SAT each year to the junior class during the school day, with 98 percent of the class taking the test.
A major factor in deciding whether to take the ACT is based on the science portion of the test. Some students who thrive in the science section use that to their advantage. Chance suggests that students going into any science/health field might want to take it so colleges see those scores.
Mistriel said she felt more comfortable taking the ACT because "it includes a science section, which is a subject that I enjoy."
Habib determined he wanted to take both tests since he "heard that the ACT was easier, I guess. It's because it had more math and science heavy,"
Walker added, "My SAT score was lower than what I was looking for and I'm stronger in science."
Mistriel went through the same process. She says that "I did poorly on the SAT, so I decided to try the ACT and see if it was easier for me."
Another difference between the two tests is the time. The SAT takes approximately 3.5 hours and the ACT takes 2.55 hours. Furthermore, the time it may take a student to finish the test sections can vary.
Mistriel explained how she "didn't finish any of the sections of the SAT on time. I finished all the sections but math for the ACT."  
Walker stated that it "took me longer for the SAT than it did for the ACT because it seemed that the questions were more complex."
Chance explained how universities normally don't have a preference, but added that the ACT is in general "more common out West."
Students should be looking to take these tests by the time junior year finally comes. Chance says that "11th grade is a good place to start and you can take these tests as many times as you want to."
"ACT and SAT are both good exams to take but I recommend sticking with one of them," Habib advises. "I recommend sticking with one exam and improving your score. Colleges are looking for one score and having two bad scores are worse than having one really good score."

About the Writer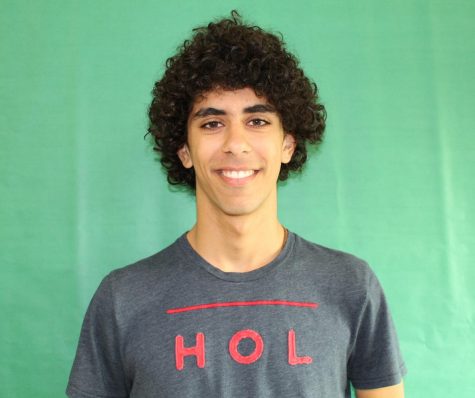 Hisham Rushaidat, Sports Editor
My name is Hisham Rushaidat, but I'm also known as Jordan. I am a senior and this is my second year at Danbury High School. I'm passionate about communications,...