Snow qualifies for state poetry competition
Sophomore recites 'Sheltered Garden' by Doolittle
Hang on for a minute...we're trying to find some more stories you might like.
Elise Tobin was introduced to the competition Poetry Out Loud a few years ago when she was substitute teaching at Joel Barlow High School.
"When I started at Danbury High School, I knew I wanted to provide that opportunity here," said Tobin, an English teacher and published poet. She organized her first Poetry Out Loud competition last year.
Tobin recently held the DHS competition after school, and Laura Snow was judged the winner. Her competition was Gabby Galarza, Maddie Beckham, Bruno Guzman. Snow now qualifies to participate in the state Poetry Out Loud competition March 3 at Manchester Community College.
"Only a true poet will be able to describe the feeling," Snow said of her win. "It felt amazing; in short. I am incredibly excited to represent Danbury High School at the state competition."
Poetry Out Loud is a national poetry recitation competition put on by the National Endowment for the Arts. In the first round, high schools pick their top poet to send to the state competition. In the second round the winning student competes against other students from the state. Once a winner is picked from the state competition, the winners compete at the regionals and  nationals April 23-25 in Washington, D.C. The winner is awarded a $20,000 scholarship.
To choose students who would compete at the Danbury High School round, Tobin had all her sophomore honors students memorize poems and had colleagues judge the recitations. Those teachers included Krisanthia Panalidis, Chelce Hessler, Matthew Kinsman, and Nicole Martone.
On competition day — Jan. 10 — the judges comprised English teachers: Camille Tanner,  Maria Bolanos, Casey Hanrahan, Kinsman, Hessler and Martone.
Galarza read the poem "Self Portrait as So Much Potential" by Chen Chen. The poem is about a guy who has colliding identities. He is Chinese, American, and gay. The poet uses metaphors to show his familial disappointments. "Gabby's poem tackled individuality, a social justice issue, and she delivered the content effectively," Tobin says.
Beckham read the poem "The Man with Night Sweats" by Thom Gunn. It is about a man fighting a disease. "Maddie's recitation was confident and crisp," Tobin notes.
Guzman read the poem "Windigo" by Louise Erdrich. It is about a cannibal demon. "Bruno is an effective storyteller. His recitation had a quiet strength," Tobin says.
Snow's winning recitation was of the poem "Sheltered Garden" by Hilda Doolittle. It is an imagery poem with an extended metaphor. "If somebody did not know that poem, they would be able to understand the content and the emotion by listening to [Snow's] recitation," Tobin says.
Snow said she chose the poem 'because I wanted to challenge myself. At 58 lines, the poem took me quite some time to memorize. The extended metaphor spoke to me as well; I believe that H.D.'s use of overprotected fruits to symbolize her belief that the only way to grow is to conquer any and all obstacles in life."
Snow prepared for the contest by handwriting the poem multiple times. She intends to do this again for the state competition, which requires that competitor to memorize three poems. Snow has already picked out her poems. Along with "Sheltered Garden" she will also recite "Earth, You Have Returned to Me" by Elaine Equi, and "Friendship After Love" by Ella Wheeler Wilcox.
Tobin is confident that Snow will do well in the competition. "Poetry is difficult and Laura made is sound easy."

About the Writer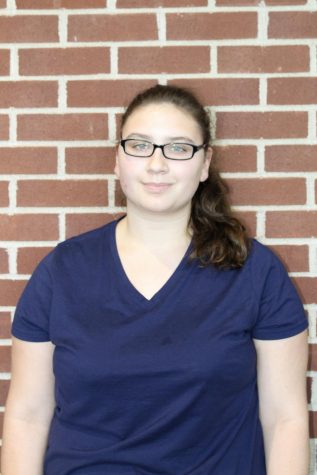 Jenna Coladarci, Staff Writer
This is my fourth year writing for The Hatters' Herald. I joined the Hatters' Herald because I love writing and I am always looking for places where...