Students, faculty sad to see Buck go
Auto shop teacher takes job in Syracuse
Hang on for a minute...we're trying to find some more stories you might like.
After 12 years of teaching at Danbury High School, auto shop teacher and NEA-Danbury president Sam Buck is leaving his positions.
Buck has taken on a position in Syracuse, N.Y., as a labor relations specialist for the New York State Teachers Union. His last day at DHS was on April 6 and he started his new job April 9.
A labor relations specialist is someone who will interpret and administer labor contracts regarding wages and salaries, healthcare, pensions, and union and management practices, according to the U.S. Department of Labor's Bureau of Labor Statistics.
"
I'm a little heartbroken. He's one of my favorite teachers"
— Erika Regus, senior
Though he is excited for new opportunities, he is also upset about leaving. "I'm heartbroken and I'm going to  miss it. I'm going to miss the people here at Danbury, the kids, the faculty, and the staff," he says.
Though he will miss his students and watching them learn, there is one thing that Buck won't miss: "Staff meetings and paperwork," says Buck, who is an Air Force veteran.
Many are saddened by Buck's resignation and will miss him and his presence, including staff and his students. "I'm a little heartbroken. He's one of my favorite teachers," says senior Erika Regus.  
Students also see this being a loss for the school. "It's very disappointing because he's such a great teacher and he's very nice," says junior Tommy Morales. "He makes everybody feel like they're home and safe so him leaving is very sad."
Staff members, such as Justin Morgan, who also teaches in auto shop, are also saddened about Buck's departure.
"He will be missed immensely by myself, our department, and most important the students he has worked with over the past 12 years in Danbury," Morgan says.
English teacher Tom Ross served with Buck on the NEA-Danbury Executive Board, traveling with him on union trips and going on hunts for restaurants featured on "Diners, Drive-Ins and Dives" on the Food Network.
"One time we were in Philadelphia, in February, and it was wicked cold," Ross recalls. "Sam never wears a jacket, even if it's 0 outside. He found a breakfast place that had been featured on the show and told our union contingent it was within walking distance. We were all in coats, scarves and gloves, and there was Sam, in jeans and a t-shirt.
"The place ended up being a couple miles away, no taxis in site, and we wound up walking the whole way. His bare arms were so red from the wind and cold, but he kept going, and it was all worth it when we got our pancakes."

About the Writer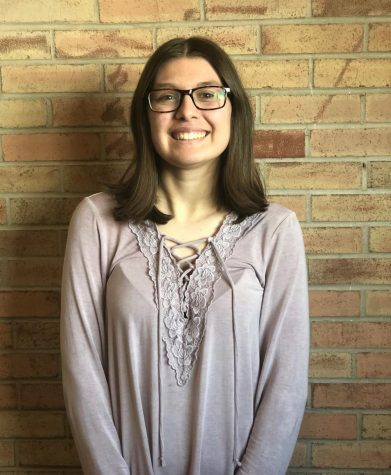 Elizabeth Hadden, Staff Writer
My name is Elizabeth and this is my second year as part of the Hatters' Herald. I chose to take journalism during my junior year because of my interest...