Softball captains unite with their sisters
Hang on for a minute...we're trying to find some more stories you might like.
Senior captains Shea McNamara and Alex Cooke have been on the varsity softball team for all four years of their high school careers.
The captains share an intimate friendship with the other teammates that make them like sisters. Their leadership abilities have made a big impact on the team with showing strong motivation and willingness to succeed.
McNamara, centerfield, continues to push herself each day. She has played softball for nine years and was a former volleyball player. Although, she has a lot more passion for softball. McNamara mentioned how "it feels great" to be on varsity since her freshman year – which shows her diligent work ethic.
"I've worked hard since I was 5 and this is something I'm proud of and take very seriously." McNamara said. "My Dad has pushed me since I was little to be the best that I can be."
Likewise, Cooke, who also used to play volleyball with McNamara, has shown her dedication to softball as well. Cooke explained that when she was younger, her goal was "to make varsity." She was glad to have accomplished it. "Being able to make it freshmen year was amazing," Cooke said. "It was such a miracle."
Cooke, shortstop, added that her softball inspiration was from her father, who is a softball coach on her sister's team. Cooke's father always supported her to be successful regardless of how long it took. "My Dad still plays baseball today," Cooke remarked. "Everyday I go hit with him and he encourages me to work hard."
In addition, the softball team share a close relationship. McNamara explained about how her experience on the team has been very welcoming. "I've felt like I've been welcomed since my freshman year," McNamara said. "As a senior, it's important for everyone to feel welcomed."
Junior Shannon Quinn, right field, admires the captains' leadership on the team since they make her feel more connected with them. Quinn has always felt comfortable around the captains and appreciates their kindness. "They are like my friends," Quinn said. "They inspire us to do our best in order to motivate everyone."
For motivation, the team constantly carries a positive vibe among each other to avoid negativity. Quinn discusses about how they're "[handed] positive feedback" instead of criticism. The teammates are told to "keep moving forward no matter what." This way, it's easier to stay motivated throughout their games.
As for the softball coach, Shaun O'Brien, is proud of the team's achievements so far –  especially for the captains. He explains that the captains contribute to the team by "setting [a good] example" and "allows the other players to follow their lead." O'Brien is also astonished by the captains' growth over the years.
"When they first come in they're so young," O'Brien said. "Now you see that they have grown up to be adults and their skill levels shows how they have grown by playing throughout the off season. You seem them get better and better as the years have gone by."
Accordingly, O'Brien continually sees his team "working really hard during practice" and "[having] vocals" to keep their positivity high.
"We're always told to have positive energy," Quinn added. Regarding this, the teammates frequently show their enthusiasm even in the toughest situations. Whether they win or lose, the captains give them encouragement to move on. "We look up to our captains because they are such good leaders," Quinn said. "The captains tell us to look back on our good games and keep moving forward."
Junior Azariah Bowden, left field, has also been on good terms with her captains for many years. Her friendship with them has grown over time while playing softball. Bowden explained. "Shea and Alex are like the two sisters I wish I had." Bowden explained. "Our bond has always been strong mainly because I grew up playing with them and with all of the other girls."
Bowden said that McNamara and Cooke had "inspired [her] to go play in college" because they had given her "a lot of advice about softball." Her captains wanted Bowden to also "gain improvement" so she can be successful in the future. Currently, Bowden is in between choosing colleges she wants to go to and plans on aiming for a softball scholarship.
McNamara's plans for the future involves playing softball during the summer prior to going to the University of Rhode Island – which is where she'll be attending for college next year. "I'm going to finish this summer with my travel team," McNamara stated. "I won't play for a college team, but will try a club for it."
Correspondingly, Cooke has similar plans for the future. This fall, Cooke will be attending at Eastern Connecticut State University. Even though she loves softball, she does not intend on  participating on a college team. "I don't plan on going for a college team," Cooke said. Instead, Cooke plans on "playing for a travel team for the next few years" instead of participating in a divisional softball team.
In terms of success, O'Brien had objectives for the team to achieve for the season. Their overall record this season by far is 14-5. As of May 12, the team won a game against Greenwich 19-8 and qualified for Top 8 in the FCIAC conference. The girls will compete at the FCIAC conference next Friday on May 18.
"We have already qualified for the state tournament," O'Brien said. "Our next goal [was] to make FCIACs. These last [two] games determined how we will make the FCIACS." The last goal they have is to "host a state game" in their field.
Besides this, the teammates are trustworthy on and off the field always reliable to help each other.  "We put a lot of trust on each other," McNamara commented. "As a team, we do a lot of people work before we got into the sports work by being able to know our teammates. I have a different bond with each person."
Moreover, Cooke has known her teammates "since she was little" and perceives all of the girl's problems. "We know each other's strengths and weaknesses," Cooke said. She added that they are "better together" through teamwork and putting in effort.
McNamara keeps the team in a stimulative environment by "being a good example for [her] teammates" as well as setting "the best example for [her] little sister" who is also on the softball team. McNamara presents herself as a strong role model to her girls. She aids her teammates by making them putting in full effort through their high energy.
Similarly, Bowden learned to how to have "their positive attitude" and to "take their advice" because she knew their help would benefit her to be the "best that she can be."
Quinn looks up to her captains as amazing leaders reflecting on their content personality. "Everyone's relationship on the team helps us do better," Quinn mentioned.
In other words, Coach O'Brien considers the captains to be "extremely likeable people." He hopes for the captains to have an amazing season by making a good representation not just for themselves, but for their teammates. "Personally, I want them to go out with a really good record," O'Brien said. "I want them to leave their senior year with an outstanding team."
An important method that Cooke was taught by her coach was to "stay loud" during their games. It was a convenient way to communicate and to show good collaboration. "You have to keep your energy up," Cooke explained. "You have to score one to win anyway."
McNamara stated a similar lesson based on her experience during her softball games. "Positive attitudes get you through everything. Whenever you're in a bad situation, you have to stay positive. As long as you get through it, you'll do great."

About the Writer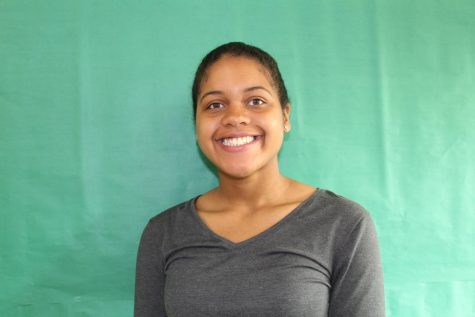 Mikayla Hill, Staff Writer
I'm a senior and I signed up for Journalism because I wanted to learn about this style of writing and improve my writing skills. I love writing and I...