Boys' lacrosse team earns states appearance
Hang on for a minute...we're trying to find some more stories you might like.
For only the second time in the team's history, the boys' lacrosse team has qualified for states.
With the first time in school history being during the 2015-16 school year, this is the second season the team has accumulated 7 wins or more, which is what is needed to qualify for states.
The team has experienced a surprise turnaround, achieving an overall record of 8-8 and FCIAC record of 4-7, however, they were only able to bag one win last season.
Coach Bill Kersten praised the players' drive and determination, as well as the level of competitiveness instilled within each.
Kersten, who is in his fifth year as a coach, explained that "we were very competitive last year; however, we had few wins to show for it because we had no depth, and the other teams were able to wear us down."
The arrival of numerous freshmen provided the team with the depth that was required, "and therefore they can sustain our effort throughout the games."
The team is led by senior captains, defender Solomon James and attacker Logan Sarkisian, and sophomore midfielder Tyler Warren,
"There wasn't much difference in our performance," said James, who has been playing lacrosse since fifth grade, from last year. "We went out and played every game, both this year and last year, but the only difference would probably be that we have better players that perform better."
Warren explained that going from one win last year to eight wins so far is a huge achievement and difference. "Different attributes in each of the players and the amount of people we had come in [contributed to that change]," Warren said.
Sarkisian, who got into lacrosse because many family members have played the sport in high school and college, explains that the type of training this year, as well as the strong chemistry between the players, was a factor in the success achieved this season.
Warren said that doing more training this preseason compared to last year ended up being beneficial to the team in all aspects.
" I would say that this season is [more successful] because of the practice drills that you would utilize in the game," Sarkisian said, "and helped us think about what you can do in practice that you can use during the game."
Kersten explains that the team does many drills that involve passing and catching, called "shuttles." The team practices shooting shuttles, and practice by simulating game situations. Examples would be drills such as "progression, odd man rushes, and the box."
James, Warren, and Sarkisian, agreed that their best games personally were against Norwalk, New Milford, and Brookfield, respectively. However, they all mentioned the game against St. Joseph as their team's overall best despite losing 7-5.
"We went out and played hard," explains James. "No one thought we could beat them, no one gave us a chance against them, but we were up at halftime. The whole team just gave 110 percent and we made it a great game."
Sarkisian added, "Even though we lost the game vs St. Joseph, I believe that was the peak of us playing as a team, this was our most chemistry-oriented performance to date."
Kersten on the other hand, believed the 7-6 win over Norwalk to be the team's best this season.
"We were down 5-1 to Norwalk in our second game of the season, and were able to come back and beat them on the road 7-6," Kersten says. "That game was very important for all our players to know if we kept working hard throughout a game, victory was still possible."
The team has qualified for the states, but unfortunately missed out on qualifying for  FCIACs.
Their journey kicks off on Saturday, May 26, when they play Fairfield Prep at 4 p.m.
"This is really huge," Sarkisian said. "It really is. This is only the second time in DHS history that the boys' lacrosse team makes it to states. We're looking to win it all, and as always, it would be nice to get a minimum of ten wins."
"For states," Warren said, "we all just want to win a couple of states game, and you never know, hopefully bring it back home."
James added: "I'm aware of what I have been achieving, I'm aware of what some of the star players have been doing, but none of that matters to me or to them. We play as a team and we look to win as a team, and that's what I care about."

About the Writer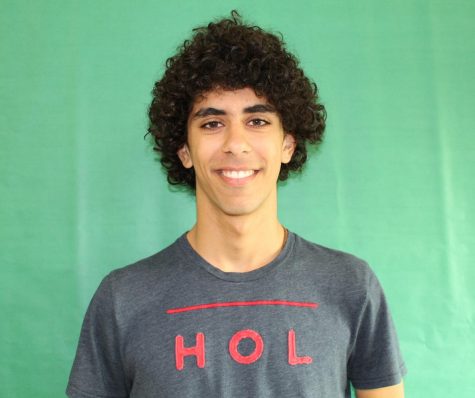 Hisham Rushaidat, Sports Editor
My name is Hisham Rushaidat, but I'm also known as Jordan. I am a senior and this is my second year at Danbury High School. I'm passionate about communications,...