Boys' tennis make history and qualify for states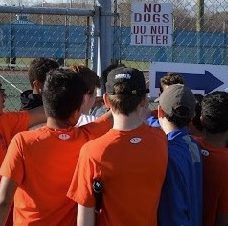 After a stellar performance from the boys' tennis team this season, next year's team will look to do even better.
A record of 10-10 booked the team's ticket to States for the first time in school history.
Athletic director, Chip Salvestrini, and tennis coach, James Ascone, gave their thoughts regarding this past season. Senior captains, Griffin Barnet and Eric Tenesaca, and senior players, Nicholas Walker, Joseph Kiselak, and John Hoddinott, also reflected on the recent achievements.
"In tennis," says Salvestrini, "we didn't find out [that the team was going to states] till the last match. We needed to go to .500 winning percentage, and in that last game vs New Fairfield, we won 5-2 which enabled us to participate in the states tournament."
"I was very happy for coach Ascone and kids, especially the seniors," says Salvestrini. "What we look for in our tennis program is improvement, like number of kids participating, how we do against lower Fairfield County teams. To make states is a big thing for us."
Ascone, who is also a health teacher at DHS, coached wrestling from 2014-2016 and took over as tennis coach during the 2016-17 school year.
"It was our team goal (making states)," says Ascone, "so it was a tremendous accomplishment for all the kids on the team. I couldn't be any more proud of the kids."
Kiselak thought that making "states was a big deal for all of us since we've been putting in a lot of time and effort the last few years and it feels good for the work to finally pay off."
"I'm really proud of everyone," explains Barnett, who received an All-FCIAC honorable mention for tennis. "It was really hard since we had to play against all these teams that are unbelievably talented, so against competition like that, it's just awesome to see us make it through."
"I'd like to think so [the team continuing to improve]," says Salvestrini. "That means there should be a commitment from the players, the kids have got to play more year round. FCIAC has the best tennis in New England, so we have to compete against teams that play year round."
Co-captain Tenesaca explained that the team had to avoid a couple of obstacles to achieve their goal.
"Even though we had a lot more matches," Tenesaca said "we didn't have that much preparation before the season, and the weather was pretty bad. It was hectic but we got things done.It worked out for us."
Walker believed that "this season was amazing compared to the others. Each game felt winnable and I felt that we won all of the matches that we needed to win, especially Norwalk."
Norwalk hosted Danbury on April 30th, 2018 at Norwalk High School, in a game that ended with a 4-3 win for the Hatters. This victory, which was not achieved easily as Walker described, meant that there was a real chance for the team making states for the first time.
"They [the players] all contributed because we had to get to where we got as a team," says Ascone. "Our captain, Griffin, always put the team first and helped other kids improve on a daily, and honestly, all our players put the team first."
Tenesaca and Barnett, as explained by Ascone, " were simply great. Both never wanted to let the team down. They put tennis, and the team, above themselves. Both of my captains took time to help less experienced players become better."
"I always try to work as a team," says Tenesaca. "Achieving our success as a team-oriented team is big for me as a captain.
Barnett also heavily values teamwork. "Teamwork is what I always try to promote and improve between each of the players," he says. "As a captain, personally winning as a team is a better feeling than winning individually."
Hoddinott would describe the team as balanced, being fun at times but focused at others. "We were a fun and goofy bunch, and we were serious about making states so we put our heads in it, set that goal [of making states] and achieved it."
"The team," says Walker, "has always been so supportive and dedicated to accomplishing our goal."
During the past four years, Kiselak has seen the team "develop since I've joined. We've become a lot more hard working and goal oriented as we've grown together."
"I think the biggest change over the years," says Walker, "has been the chemistry we have built. Many people see tennis as an individual sport, but our team has really grown with the mindset of always having each other's backs and supporting each other on and off the court"
"Every single year," added Hoddinott, "the team seemed to improve. We've always had this goal of making states, and this year, we finally accomplished that goal."
The State Championships took place at Hall High School in West Hartford, CT on May 26th, 2018. The team qualified with a full roster of four single players and three doubles.
The Hatters were eliminated much earlier than they would've wanted from the tournament, but believe that this is just the start of something great.
"I won the opening round easily," explained Tenesaca. "I was 30 minutes late so I just ran onto the court and won 8-5. I was playing the sixth seed in the second round and I lost."
Barnett did not feel that he did his best that day. "Prom the night before wasn't the greatest option," he says. "I was working on two hours of sleep but I won my first round 6-0 6-0 and then I lost in the second round to Staples."
"I played pretty well in states, said Kiselak. "Wish I could've made it farther but just making it was a great experience for me,"
All athletes would like to continue playing this sport, whether it was a hobby, semi-professionally, or professionally. Barnett has been signed to play tennis for Division 1 Siena College, while Walker and Kiselak look to play at club level for their respective universities.
Hoddinott, who described tennis as a "lifetime sport," and Tenesaca will look to play the sport as a hobby and recreationally.
"Making states has been our goal every year," says Walker, "and to finally make it was a perfect way to end the season for me, the team, and the school."
Kiselak says "playing tennis gave me a lot of responsibility and insight on how important it is to work hard all year round if you watch to achieve your goals. I made a lot of great friends and it was great being on the team for the last four years."
About the Contributor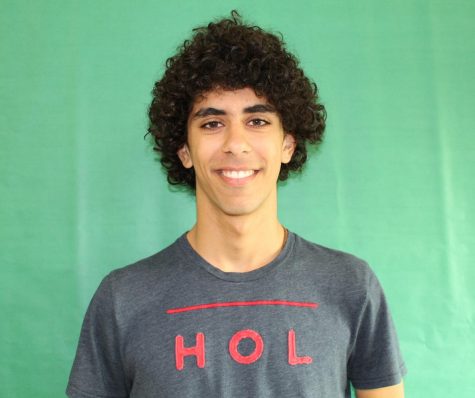 Hisham Rushaidat, Sports Editor
My name is Hisham Rushaidat, but I'm also known as Jordan. I am a senior and this is my second year at Danbury High School. I'm passionate about communications,...