Kappa Delta Pi honors English chair
Martone receives Master Teacher Honor Award
Hang on for a minute...we're trying to find some more stories you might like.
Nicole Martone needs a bigger trophy case.
Kappa Delta Pi (International Honor Society in Education) recently presented Martone — now in her second year as English Department chair — with its Master Teacher of Honor Award.
This is the 14th teaching award, which includes grants, that was presented to Martone, who was feted by the Board of Education during its Oct. 10 meeting.
Principal Dan Donovan said Martone is "constantly trying to improve as a leader and teacher … This award is quite an honor and Mrs. Martone is very deserving."
The award  recognizes educators with a master's degree and 15 years of teaching experience. In addition the organization states that the teachers "have demonstrated commitment to continuous professional growth and exemplary integrity in their classroom, research, service, and leadership." Only 16 other educators have won this award since its inception 2011.
This is Martone's 18th year in education and her second year at DHS. She currently teaches AP Literature and Composition to juniors and seniors for two periods a day, and performs her department head duties the remainder of the day.
Martone said by applying for the award she hoped to encourage fellow staff members to get involved with the organization, in which she is an active member. In 2012 she received its Teacher of Honor Award.
"I wanted other educators to know about the organization as well as the good things that are happening in our school," she said.
It was Martone's teachers who inspired her to become an educator in the first place. "There were teachers who really left an impression on me and I wanted to do the same for others," she said. "Teachers spend seven hours a day with students and are a huge part of their lives. They help shape our students for the future.  It's an incredible gift and so rewarding. Educators helped shape me and my interests and it's an honor to be able to do the same for others. "
Martone is a doctoral candidate  in educational leadership at Lesley University in Cambridge, Mass. She plans to graduate this spring.
¨Any pocket of free time I have now goes to writing my dissertation," she said. "Right now, I'm envisioning days when I can enjoy more of the pastimes that I've had to set aside to pursue this degree." She loves the outdoors, so this means hiking, bicycling, and traveling.
Martone said she went for the department job here because she found herself drawn to leadership roles. "I found myself in informal teacher leader roles, where I was helping others and working to find solutions for department and schoolwide needs. I then sought to do this work full-time."
Ann Tucci, chair of the Social Studies Department, said she admires Martone´s work ethic. ¨I have witnessed on multiple occasions Nicole's attention to detail and her thoughtful preparation for her department work.¨
English teacher Elise Tobin admires the way Martone leads the English Department. ¨She  is dedicated to improving her own knowledge base so that she can pass that on to her students as well as the English Department. In addition to being driven to master her content and craft, she also strives to create a positive work environment by consistently celebrating the successes, both personal and professional, of the department members.¨
Overall, Martone's favorite part about being a teacher is "supporting students with career and college readiness, and helping them to realize their full potential as productive and fulfilled citizens."

About the Contributor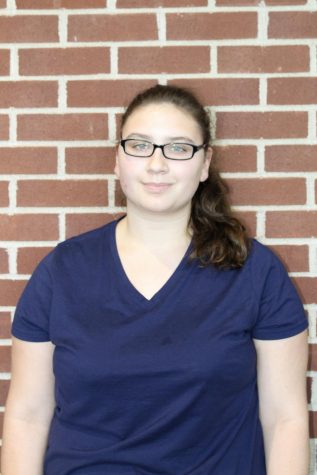 Jenna Coladarci, Staff Writer
This is my fourth year writing for The Hatters' Herald. I joined the Hatters' Herald because I love writing and I am always looking for places where...