DHS adapts to the block schedule
It has been two months since the start of the new school year and there are mixed reactions from students and teachers about block scheduling, including the skinny block, lunch waves, and new absence policy that comes with it.
After the state's requirement of the class of 2023 increased from 21 credits to 25 credits, the administration needed to alter the school's schedule so that incoming freshman could obtain the credits they need. As a result, Principal Dan Donovan initiated block scheduling to the entire school.
"[Block scheduling] had to be done," Donovan said. "Keeping [students] here until five o'clock was not what I wanted to do. I didn't want to add a ninth period."

In previous years, only the Freshman Academy followed a block schedule. The following grades worked in eight 45 minute periods, one of them being their lunch period.
The new schedule consists of two 83-minute blocks followed by a 40-minute FLEX period, a 127-minute third block (lunch waves are included in this block), and then a 43-minute "skinny" block. Transition time between classes has been increased to six minutes from five minutes when the school had 8 periods.
During the third block, there are four lunch waves of 30 minutes each. A student or teacher's lunch wave depends on their location in the building.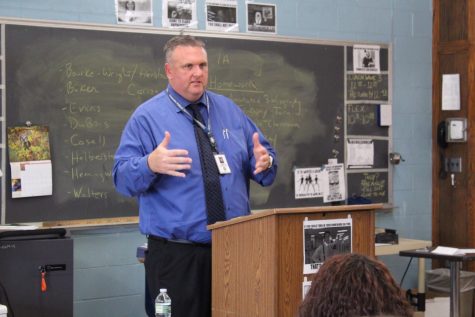 Shannon Ahearn
Donovan said that block scheduling has been going well because there are less transitions and 20 percent of teaching time is saved. He also said that blocks are giving teachers more time to work with students.
Matthew Kinsman, an English teacher who is accustomed to blocks since he has taught in the Freshman Academy, said, "I like it because I can get more done, and students stay more focused and less distracted. There are no breaks, which is also good, so I prefer it."
Emina Mesanovic, a science teacher, said,  "I like block scheduling. I think a positive is that we have more time in class. Last year by the time kids got into class, got their notebooks out, we only had 40 minutes, and then kids started packing up, so we lost a lot of time. I think one nice thing about block scheduling is that it gives us more time in class so we can start an activity when we get into it and then have time to wrap it up."
Meanwhile, English teacher Juliane Armentano recognized some issues with block scheduling. This is her first year experiencing block scheduling and she had a few opinions to share regarding the transition.
"I think one of the drawbacks is the fact that our lunch period comes part way through period 3," said Armentano, who is also the teachers' union building chair. "Students sometimes have a hard time coming back from lunch and re-engaging in the lesson. It has been a challenge for me to try and create lessons that are more interesting for them to hold them engaged."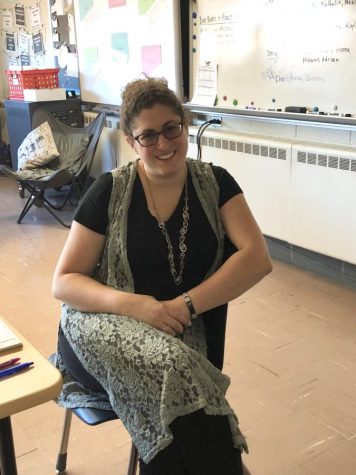 Social Studies teacher Michelle Passarelli, who chairs the union's Advisory to the Principal Committee, said she has received reports from teachers who are having difficulty adjusting.
"A lot of teachers are struggling with teaching all day," she said. "The block scheduling is an adjustment for both students and teachers."
Passarelli explained that many teachers are instructing for more than fives hours without a break other than passing time. Under the old 8-period system, teachers had by contract at least one planning period a day. Under the block, teachers now have a planning block every other day, meaning on alternate days they are instructing most of the day without a break.
The new lunch periods have also elicited conflicting opinions. By shortening the span of lunch to 30 minutes, Donovan noticed a decline in disciplinary issues in the cafeteria.
"Kids have five to ten minutes to talk [now]," Donovan said. "Before, we had a lot of discipline issues because you'd get in there and you'd have 25 minutes to run around the courtyard or 25 minutes to sit there doing nothing. Sometimes our freshmen can't handle that."
However, some students aren't happy with the shorter amount of time for lunch. Monica Jefferson, senior, said, "I think the lunch waves are a little too short, especially with the amount of kids that are in the school."
Jose Campos, junior, added, "Not to mention the fact that we don't have a lot of time to eat or talk to our friends, which to me is somewhat the point of lunch."
Teachers have the same wave as their students for lunch. Teachers have encountered students who decide to stay in the classroom instead of going to the cafeteria or media center for their lunch wave. Therefore the teacher is in charge of watching students during their lunch.
"There is no break in between teaching for some teachers," said Passarelli, adding that the teachers can ask the students to leave but many teachers feel uncomfortable doing that.
Besides the lunch waves, another part of the new schedule includes the "skinny" block during the last period. This block is shorter because core teachers can only teach five classes by contract, and the school does not have enough staff to employ a full block schedule like in the academy.
There are no science classes during the skinny block due to the difficulty of squeezing a lab into just 40 minutes. "I wouldn't want to have a class during the skinny block," Mesanovic said.
The feedback concerning this adjustment has not all been positive for teachers that teach during the skinny period. Armentano said, "[The skinny block] comes at the end of the day so I don't have a breath of fresh air until then, so that's weird."
She also states that some of her colleagues have been noticing the same difficulties. She then spoke for students by saying, "Period four is such a challenge because everyone's brains are fried from long periods and intense studying earlier in the day."
Kinsman had difficulties with his students during the shortened block as well: "It's harder to keep them focused in such a short amount of time when they are used to being in class for longer.  I think they take the skinny block less seriously," he said.
However, some students said they enjoy the skinny block. "I like it because it is easier for me to stay focused throughout the whole block," senior Andreisy Medina said.
Freshman Michael White added,"I like the skinny block because last year I attended a middle school in New York and we had shorter periods, so I am used to it."
In addition to the skinny block, there is also a new absence policy that everyone is trying to understand. It is the state's policy that a student cannot miss 10 percent of a class throughout the year. In block scheduling, one block is the same as two periods, so missing a block is equivalent to missing two periods.
Therefore, you can only have five absences per block class each semester. But Donovan said he and his administrative team can excuse extenuating circumstances such as death in the family or educational trips.
However, there have been complaints from students about this policy.
"I don't think the new absence policy is appropriate because we can't control whether we are sick on an A day or a B day," said senior Madelin Nunez.
Vanessa Garcia, senior, added, "I don't agree with the new absence policy due to block scheduling. I feel like they should add more days to be absent for each block. Five is not enough."
Overall, many students are still adapting to block scheduling along with the skinny block, lunchwaves, and the new absence policy.
"It took some time getting used to, but I like it now," senior Zachary Green said.