Miller receives CTEEA Teacher of the Year award
Hang on for a minute...we're trying to find some more stories you might like.
On top of becoming a recent book writer, CTE teacher Sterling Miller is now in competition for national recognition of his teaching abilities.
Miller just received the CTEEA Teacher of the Year award.
Upon receiving the award, Miller said, "[I was] very humbled and grateful for the Technology Education community and I'm happy to have been awarded this recognition; it shows the value I have in my teaching as an educator."
CTEEA, the Connecticut Technology Engineering Education Association, requires for its nominees to provide technology and engineering instruction of high quality, and to be learner centered and relevant to a study of technology and engineering. Mandatory requirements include being nominated by an educator, being a current CTEEA/ITEEA member, being certified to teach technology/engineering, and being confirmed by an administrator as an outstanding educator.
The award allows him to be recognized at the International Technology and Engineering Educators Association conference in Kansas City where he will also collect the official award. The state recognition puts him in the mix for the national title.
Miller shed light on his experience as a teacher at DHS, describing it as a "good environment to be in," adding that he relies on his students to become active members in society once they enter into the real world. He said that he wishes for "students to be equipped with the proper knowledge and intellect to effectively make a mark on the world."

Miller who has been teaching at DHS for the past 11 years, teaches Graphic Arts, Broadcast Journalism, A.P. Computer Science Principles, and many more. He is also the club adviser for the Video Production Club, which produces weekly broadcasts pertaining to school news and events. Thus far, the club has put out more than 100 videos per year. They are uploaded on the club's Youtube Channel, HattersTV.
In June, Miller also published his book Treasure Protectors Inc., a story using augmented reality, allowing people to use their electronic devices to scan certain passages of the book to venture into detailed aspects of the story. Miller describes the purpose of the book being as an "example for Graphic Arts to explain teaching experiences in technology education and not as a means of sales production."
"The concept of lifelong learning is the objective of how I set standards as a teacher," Miller  said. "An attempt to do so requires me to also become a lifelong learner in the process."
Eric Savoyski, a fellow CTE teacher and the school's robotics coach, says, "[Miller] is always willing to serve others. In every instance Mr. Miller is always at service to the department, and school and it's a good thing we have leaders like Mr. Miller, who willingly, with a smile, help people out all the time."
Alongside staff, students recognize the impact Miller has had on their learning experience.

Junior James Mccullers, a former student of Miller's Math Lab course, says he is an "Excelling figure who provided tremendous opportunity for students to do their absolute best, a genuine motivator."
Another former student of the Math Lab course, junior Vanessa Sin, describes Miller as a "motivating figure for me, because he helped me get through the rough patches once I entered DHS."
Miller, through the eyes of many, epitomizes the status and quality of teaching for a future. He views teaching a "beautiful concept, that I'm very privileged to provide and do on a daily basis."
About the Writer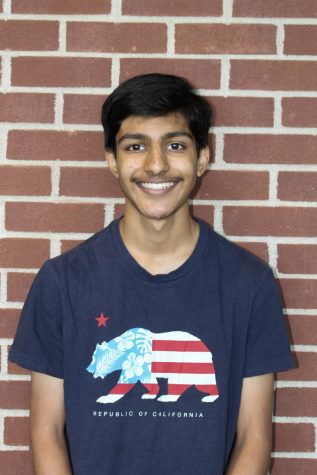 Amish Soni, Staff Writer
Roots of reporting create a base for who I am and what I represent to the reporting world. My name is Amish Soni and journalism takes shape within my ancestors,...