DHS joins nation in mourning loss of George H.W. Bush
Served as U.S. president from 1989 to 1992
The Bush Library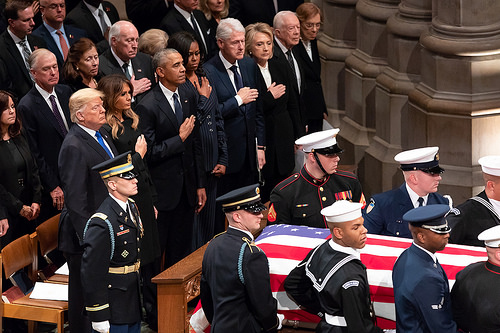 In recollecting her experiences with President George H.W. Bush, Social Studies teacher Ann Tucci went back to a time when she was just 8 years old.
Then, she wrote a letter to the president explaining her worry over the Gulf War, and received a near immediate response. "Ultimately, what impresses me about Bush is his showing to young people to always stay in the service of others," said Tucci, who is also Social Studies head.
This week, teachers and students at DHS honored Bush, who died Dec. 1 at the age of 94. Flags are at half-staff across the nation, and at 10 a.m. Wednesday (President Trump declared Dec. 5 a national day of mourning), associate principal Meghan Martins addressed the school about Bush's service and legacy.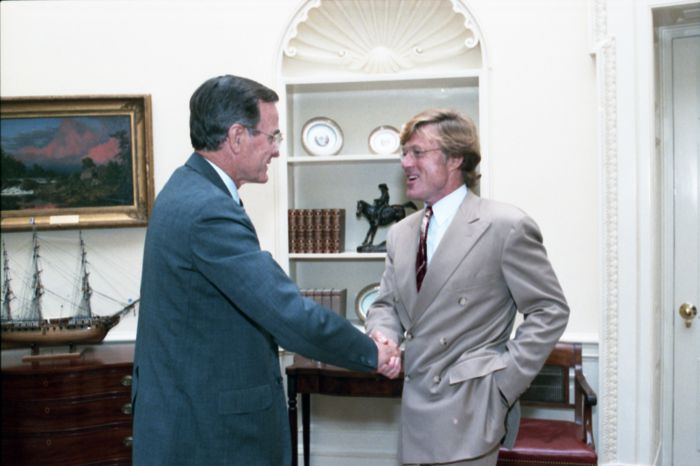 Bush was the 41st president, and at 94 the longest living president. Bush was born and raised in New England, but after graduating high school he enlisted in the Navy to become the youngest pilot to serve during World War II.
When returning, he attended Yale, earned his degree and became involved in Republican party politics in Texas, where he had moved with his wife and young family. He was a Congressman, made runs for Senate and president, served as an ambassador under President Nixon, became CIA chief,  and served as vice president to Ronald Reagan for eight years.
"
If there's anything I want my students to take away from Bush is his selfless character: being productive without expecting anything in return"
— Joe Vas
Bush won the presidency in 1988. Voters liked his genuinity and humbleness, and the promise of "no new taxes," a pledge he ultimately was forced to break to help balance the nation's debt. He navigated the nation through the end of the Cold War, sent through numerous environmental bills, and successfully forced Iraq to withdraw from Kuwait. Ultimately, Bush was found to be a dedicated civil servant throughout his lifetime.
Bush was laid to rest Dec. 6 at the Bush Library in Texas. Before his burial, there was a departure ceremony held for several days of events in Washington D.C. that celebrated the more than three decades Bush spent as a public servant – initiated by the formal 21-gun salute. Trump, former presidents Barack Obama and Bill Clinton were some of the notable figures in attendance. Most prominently, George W. Bush, the 43rd president and son of George H.W. Bush, delivered a tearful eulogy, saying "He showed me what it means to be a president who serves with integrity, leads with courage and acts with love in his heart for the citizens of our country."
Tucci encourages her students to take after his legacy of volunteer service and becoming involved in the Danbury community. She believes her students, alongside the general population, will remember Bush for being more than just a president. "His legacy goes beyond those four years," she said. "You shouldn't remember him as a one-term president, but rather for all of the service he did for his country."
Social Studies teacher Joe Vas agreed about Bush's service, especially after the presidency. But when it came to the presidency, Vas described him as "plain," "humble," and at times "bland." Vas said Bush will likely be overlooked ultimately as a one-term president, and that he is really unsure if he will have any legacy.
"Bush is a good and upright American," Vas said. "But he's on track to being one of the forgotten dramas. He's very flat. Everyone will remember Obama for being the first black president, and George W. Bush for his 'war on terror' following 9/11. What about George H.W. Bush?' "
Vas further explained that even though Bush helped Reagan end the Cold War, and kept Russia and other new countries formed out of the Soviet state in check as they tried democracy, his "humble and ordinariness" is what causes him to be overlooked compared to figures with a more prominent iconography.
That said, Vas said he found Bush to be remarkable in his perseverance and character. "He was a member of the last 'Great Generation,' " Vas explained. "He lived through the Great Depression, fought in WW II, reformed America, and expected nothing in return."
Bush epitomized the "Greatest Generation." Vas explained that the "Greatest Generation" was the generation that got things done. He draws reference to the poignant image of former Sen. Bob Dole saluting Bush's casket, being held up from his wheelchair and saluting with his left hand (his right hand became useless after being shot in the arm in World War II).
"If there's anything I want my students to take away from Bush is his selfless character: being productive without expecting anything in return," Vas said.
The impact of the Bush presidency, of course, did not ultimately escape the students of DHS. A major factor in the diversity of political opinions amongst the student masses is the emergence of strict political views – either completely Democrat, or completely Republican.
An advocate for LGBT youth and president of DHS's Diversity Club, senior Ashley Corrie doesn't skip over the AIDS crisis that emerged in the 1980s and the criticism of Reagan and Bush in that they didn't do enough to help.
She especially doesn't forget what Bush did then, saying "Bush turned away hundreds at the border because of the fear of AIDS spreading, and the fear that they might have it. It's that ignorance that overshadows any 'American spirit' or character his legacy becomes … One can only hope he's seen for his real actions and their impact on others," Corrie said.
Grace Rudrick, a member of the Young Republicans Club, respectfully disagrees, again focusing on Bush's foreign policy.
She describes Bush as the"last great American politician. Bush's reformations on educational policy is what makes the education I receive today the way it is. I think it's important to pay tribute to such an honorable and great man," Rudrick said.
About the Contributor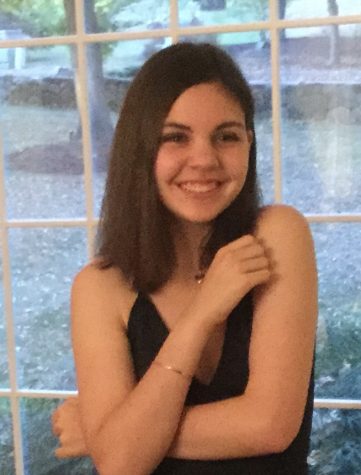 Viktoria Wulff-Andersen, Co Editor-In-Chief
This is my second year writing for the Hatters' Herald. I started last year as a sophomore, and am now a junior. Ever since I was a young girl, I have...