Staff and students adapt to the new lunch waves
Hang on for a minute...we're trying to find some more stories you might like.
After the change to block scheduling, students have only 30 minutes to navigate their way through the bustling cafeteria to wait in the long lunch line to get their food, and cafeteria workers have even less time to serve lunch to the hungry students in the allotted time.
"This is the first year we've had a change in the schedule," cafeteria manager Alice Hawley said in reference to the change from a 45-minute lunch period.
Even with the shortened lunch periods, the workers have managed to minimize the lunch line waiting time. According to Hawley, students are in and out of the lunch line within 11 to 14 minutes, leaving them at least 15 minutes to eat.
A letter from Mark K. McQuillan, Commissioner of Education, to superintendents of schools mentions how the state "require[s] each school under its jurisdiction to offer all full day students a daily lunch period of not less than 20 minutes."
While the new lunch waves pass this requirement, students generally favor the longer lunch periods from previous years.
Feona Jodin, senior, said she "misses the social part" of last year's lunch period. "Lunch is so fast this year, we don't have enough time to talk to each other about our day and our classwork."
She also mentioned how she cannot get the food she wants if she arrives to lunch late.
"My class is on C5," Jodin said. "So by the time I get down to the lunch room, I can't get the food I want."
Issues such as this have arisen with the student body, especially concerning the logistics of eating during a certain time of the day. Grace Rudick, sophomore, said her eating schedule is put off because she has different lunch waves each day.
"It's so annoying to change when I eat," Rudick said. She has lunch wave one on B days and four on A days, and said that she is really hungry by the time fourth wave starts.
Another sophomore, Lindsey Bieber, agreed, and suggested that "everyone have the same lunch wave everyday."
Susanne Zencey, math teacher, suggests an extension on the lunch waves. "Since I'm a busy teacher, I don't always start eating right away. It feels rushed," Zencey said. State labor laws guarantee teachers a minimum of 30 minutes for lunch, so it's been an adjustment for them, too.
Robin Pietz, Spanish teacher, expresses a similar opinion: "I think a little bit longer wouldn't hurt."
The lunch period may not have made a significant impact on the cafeteria staff, but some teachers and students think it is too short. Lengthening the lunch period by 10 minutes may be a good consideration to make in the future.
Despite some issues and backlash, other students enjoy the waves.
"I like the shorter waves," sophomore Benjamin Laham said. He mentioned that the lunch period "gives you a little break from class to recollect everything and get you through the day."
For students who have lunch waves 2 and 3, lunch is a break from a long block. Pietz, who has lunch wave 2, said that while "a few students tend to come back late [from lunch], they seem pretty focused and ready to go when they come back."
In general, the students and staff have a few suggestions for the lunch period, but are habituating to the new schedule. Even the cafeteria staff has encountered issues that they have been able to solve.
Just last week, they were short of staff due to illnesses and transfers. As a result, Hawley said, "we shut down a station to accommodate for the low number of staff."
Additionally, other problems have been reduced since the beginning of the schedule change, including disciplinary issues in the cafeteria. Hawley suspects that freshmen are the problem, but said that the issues eased a few weeks into the school once they "got used to the way things are run here."
While there are still some issues that still need to be addressed in the next few years, the staff and students as a whole are adjusting to the new lunch schedule.
"Of course the first few weeks were a little hard, but we adapted well to the change," Hawley said.

About the Writer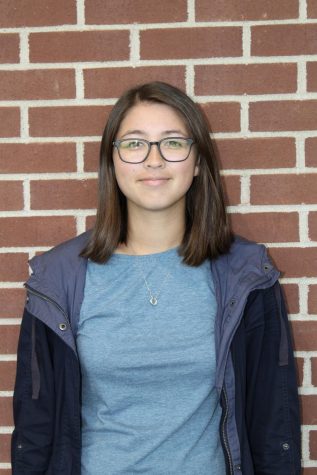 Kiara Kaltschnee, Staff Writer
Ever since I was little, I couldn't put a book down. My passion for reading has grown heavily over the years, while my interest in writing has paralleled...