The school store: run by students, for students
Hang on for a minute...we're trying to find some more stories you might like.
From school supplies, to mugs, snacks and drawstring bags, the school store has much to offer for students.
Between 7:20 am and 2 pm, 2-5 marketing students and YPPs alike operate the school store under the supervision of business teacher, Carmela Calafiore. All profits from the store fund materials needed by the students for Distributive Education Clubs of America (DECA) competitions.
"The money that we raise [from the school store] will help pay for the presentation boards, transportation; it pays part of their registration fees," Calafiore explains, and then profits "recycle back into the store for the merchandise and stock."
Alongside the fashion marketing class, general marketing students work on research projects over the course of the year to compete at various levels.
Calafiore is certain our DECA program will attend a national competition this year. "I'm hoping that [our profits] will pay for almost half of their way, and then we raise the rest of the money so they can go for little or no cost," she explained.
More recently, the school store has also established itself online. The website is managed by BSN, "The same company that runs all of the team sports online stores. You can order from your team's sport when your coach says go online and order; it's that same company," said Calafiore.
While the in-school store carries a more generic line of clothing along with a variety of snacks, happy birthday balloons, and stuffed animals, customizable merchandise is available for purchase online at sideline.bsnsports.com
Senior Lauren Gherna, committed to South Carolina for marketing and finance, says "Working with Ms. Cal this year in the school store has really fueled my ambition to go into the world of business in the future."
"I've learned really valuable lessons about management, customer service and how business is consistently changing, therefore the store must change as well." said Gherna.
The marketing program offers the opportunity for anyone interested in business or sales to work in real-world conditions. It can help students embark on a career in the field of business by providing beneficial life experience as well as worthwhile knowledge.
The store is a perfect place for students to grab a quick pick-me-up before going back to class.
"Overall the school store serves the students pretty well," says senior Lucio Bellantoni, frequent customer. "I come in, I take a peek at the chips to make sure they got the purple ones. Sometimes I get the orange juice, sometimes I look at those cereal bars—those are pretty good in the morning."
Senior Liam Jakobson said his time spent working in the school store has been valuable. "It's been great, a lot of different kids are involved with it" added Jakobson.

About the Writer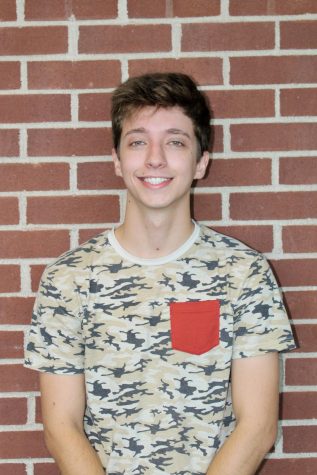 Dean Waterbury, Staff Writer
I originally had AP computer science in place of journalism. Due to my lack of interest in computers, as well as not owning one, I decided to drop the...