DHS staff and students mourn the death of NBA Star Kobe Bryant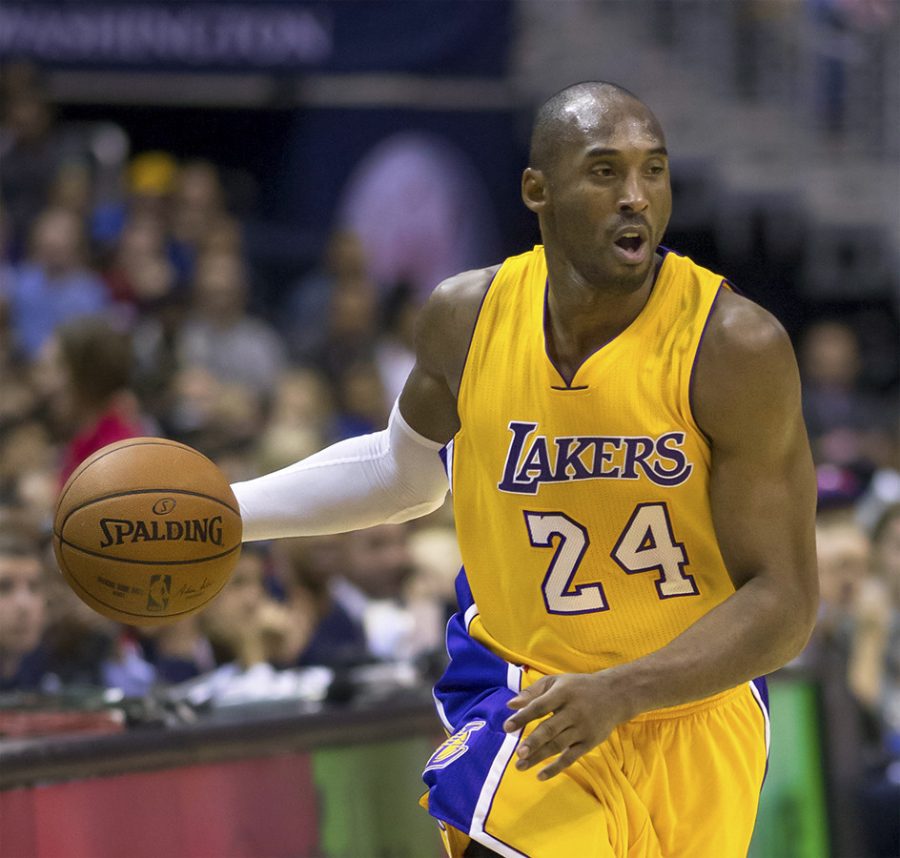 Staff Report
January 29, 2020
There are certain events where people will never forget where they were when they first heard the news. NBA Star Kobe Bryant's death is one of them.
Bryant, 41, and his daughter Gianna, 13, were two of nine confirmed to be killed in a helicopter crash in Calabasas, California on Sunday, Jan. 26. 
The 6'6" basketball star first entered the NBA when he was the 13th overall pick of the 1996 draft to the Charlotte Hornets and was then immediately traded to the Los Angeles Lakers, where he spent his entire career. At the time, he was 17-years-old, which makes him the third-youngest player to ever be drafted. Bryant played his entire 20-season career as a shooting guard and quickly rose to prominence as a five-star NBA champion, two-time NBA Finals MVP, the 2008 NBA MVP, an 18-time All-Star, and a two-time gold medal winner in the Olympics. After retiring in 2016, he also became a 2020 Naismith Memorial Basketball Hall of Fame nominee.  He is expected to be inducted into the Hall of Fame later this year. 
Bryant was more than just an NBA star. He was a father of four daughters and a husband. He was a coach for the late Gianna as she competed at the Mamba Sports Academy and sought to play basketball for UConn.
He was an advocate for women's basketball and developed a close relationship with UConn Women's Head Coach Geno Auriemma through their participation in USA basketball. In addition, he helped former UConn, and current WNBA, Star Breanna Stewart recover from a torn achilles (a devastating injury Bryant also suffered at the latter part of his NBA career). He was also an Academy Award winner whose film, "Dear Basketball," won Best Short Film. Most of all, he was a legend and inspiration to lovers of basketball and athletics worldwide.   
After the news came out on Sunday, celebrities came out in mourning for Bryant's death. Kobe's teammates and friends spoke out to the media on how devastated they felt. Singer Alicia Keys paid tribute to the late NBA star during her opening speech at the Grammys on Sunday. Kobe's two jerseys – number 8 and 24 – were illuminated during the ceremony.
DHS is also in mourning over the tragic loss. Athletic Director Chip Salvestrini claimed he was emotional about Bryant's death despite never meeting the man. "I think it's because of what he stood for: hard play, standing up for the community, and loving his family," Salvestrini said. Girls JV Basketball Coach Billie Anderson agreed, saying "You have an ex-NBA all-star, multi-talented player, one of the best players in the league, supporting [his daughter] on the way to a game…it's just a sad tragedy when stuff like that happens." 
DHS students are also saddened by the death of such an idolized figure. Junior David Lopes thinks of Kobe Bryant as one of the "greatest" basketball players, and said his death was so upsetting "because he was a really hard worker and a role model to many." DHS Intern Angel Diaz from the University of Bridgeport expounded on this, saying "[Byrant] would become the foundation for everyone on how hard you have to work to be successful."
DHS basketball coaches mourned the loss of their idol the hardest. "[Bryant] showed us what it meant to work hard, good work ethic, mamba mentality," Girls Freshman Basketball Coach Melissa Teel said. Both Teel and Head Boys Basketball Coach Casey Bock were devastated over the loss of the "generational figure."
Overall, Freshman Boys Basketball Coach E.J. Harrison summarized the DHS's feelings on this tragedy the best: "[We] lost a shining star. Kobe Bryant was the fiercest competitor that all of us…aspired to be."
Rest in peace Kobe Bryant, 1978-2020.