Top 10 movies to watch on Netflix while in quarantine
Top movie recommendations for those looking to be entertained and social-distance at the same time.
Since beginning quarantine, ideas of new activities one can do while stuck inside have withered  down. There is only so much a person can do at home such as school work, puzzles, art, etc. whether they may be by themselves or quarantining with family. Luckily, we have the entertainment industry.
Movies are one of the staples of a good rainy day inside, especially when you've already done everything you could possibly come up with in attempts at keeping busy. Now is the perfect time to get your popcorn in the microwave and sit down for a movie or two… or three because why not!
After scrolling through Netflix and putting in some of my personal opinions/reviews, I think I have come up with a solid list of movie recommendations (in no particular order) to watch while in quarantine. With movie genres ranging from thriller to rom-coms, there is something here for almost everyone.
Ferris Bueller's Day Off
Starting off the list with a bang, all I can say is if you have never seen this classic before, now is the time to do it. The movie brings you through a not-so-normal "sick" day with high schooler Ferris Bueller. Having his entire class fooled that he's surely dying from illness, the teen decides to take advantage of the situation and cause some chaos. Dragging his best friend and girlfriend along with him, they take a day trip to the city of Chicago and from that point on, things get a bit messy. 
"'Ferris Bueller's Day Off' is such a great movie! It's an older 80's film, but still very relatable and funny," shares Senior Jennifer Crespo. If you are an upbeat comedy lover, this movie would be perfect for you. 
War Horse
If you are an animal lover, a novel reader, or even a little bit of a history buff, "War Horse" could be a good movie for you to watch. Having been made in 2011, the film is slightly older. However, this movie still continues to be one of the saddest and most captivating films I have ever seen. "War Horse" follows the story of an Englishman named Albert and his horse Joey who is sold and sent to France amidst the first World War. Through the ups and downs of war combat, you slowly begin to develop a love for Joey and hope that Albert is one day able to find his way back to him, routing for them till the very end.
Dumplin'
This Netflix original is the perfect heartfelt drama and comedy that'll be sure to make you laugh. In a small Texan town, a plus-size teenage girl struggles to capture her mother's (played by Jennifer Anniston) attention when all she seems to focus on are her pageant shows. As a protest and a way of getting her mother's attention, the teenager decides to enter her mother's pageant. However, when others notice her bold entry into the pageant, an empowering movement begins, proving that beauty has multiple definitions.
For Dana Edmondson, the fact that "it teaches girls to do whatever they want no matter what anyone else may think", was one of her favorite aspects of the movie. "The movie has a really empowering message to be confident and love yourself regardless of anyone else's opinions," says Edmondson. "I would highly recommend 'Dumplin'' to any teenage girl. It's also the perfect mother-daughter movie!"
The Perks of Being a Wallflower
"The Perks of Being a Wallflower" is a dark, drama, teen movie which is also based off of a book. Starring many big-name actors such as Paul Rudd, Emma Watson, Ezra Miller, and many more, the film follows the story of high school Freshman Charlie and his struggles with depression and awkwardness. After a difficult summer leading him into high school on his own, Charlie meets two Seniors named Sam and Patrick who are what they like to call "Wallflowers". Following in Sam and Patrick's footsteps, Charlie learns to let loose, make new friends, and come to terms with his trauma. 
"'The Perks of Being a Wallflower' is a great coming of age movie," says Senior Allyson Spooner. "It also teaches a lot about mental illness!" Just recently being added to Netflix, I would recommend this heartfelt movie to anyone who tends to enjoy slightly sadder films with a hint of teen romance.
Avengers: Infinity War
If you are an Avengers fan, you have most likely already seen this one. However, with the movie currently trending on Netflix, it seems to be a popular one to watch these days! When the Avengers must come together in attempts at defeating Thanos, their most dangerous enemy yet, and keep him from taking all six Infinity Stones, the future of the entire planet is left in their hands. 
"10/10," says Senior Evelin Ramos. "The movie does have a sad ending but I would definitely recommend it. There are so many cool scenes."
The Croods
If you are looking for a light-hearted, fun, animated movie to watch with the family, "The Croods" would be a great movie for your day(s) in quarantine. Similar to the world right now, a family of cavemen known as the Croods are forced to leave their home after an earthquake and face unknown territory as they search the land for a new home. Although the world today is not being forced to leave our homes but instead stay at home, the experience is something drastically different, unknown, and new for everyone. 
Extremely Wicked, Shockingly Evil, and Vile (Rated R)
"Extremely Wicked, Shockingly Evil, and Vile" tells the story of American serial killer Ted Bundy (played by Zac Efron). Following the case of Bundy's sentencing and the love story between Bundy and his girlfriend Liz (played by Lily Collins), this movie is a great one for true crime  lovers.
For Senior Jessica Posmentier, "it was really fascinating to see the way Ted Bundy operated and what he was thinking when he went off the rails years ago." Posmentier would also recommend this movie to anyone who may have a craving for suspense.
The Invisible Man (Rated R)
Being so new and such a big hit already with a 91% Rotten Tomatoes review, I felt as though this movie should be included despite it not being on Netflix. This movie is a brand new horror film perfect for anyone who's looking to fall off their seats or hide behind a blanket. When the ex-girlfriend of a Scientist who staged his own suicide and finds a way of becoming invisible suddenly realizes that she is being watched, she is quick to tell someone and ask for help. However, when people refuse to believe her, she has no choice but to take matters into her own hands.
Train To Busan (For mature audiences)
This critically acclaimed thrilling horror film is based in South Korea where a zombie outbreak occurs. When a father and his estranged daughter become trapped on a train with other passengers, the outbreak becomes something unavoidable leaving them with nowhere else to go. This film does require subtitles, but do not let that distract you from how amazing the movie is.
One thing that Senior Briana Santana liked the most about the movie, "was the development of the characters." "Seeing how each character morphs into someone else with everything going on was really interesting," the senior shares.
Despicable Me
Lastly, with good old "Despicable Me" being the number two movie on Netflix in the US today, it is clearly proving to be a favorite while in quarantine, similar to "Avengers: Infinity War". This goofy animated family film is a great one to play when you are looking to pass the time and keep yourself entertained. If you did not know already, "Despicable Me" is about a villain named Gru who has plans to steal the moon from the sky. However, not quite thinking through his villainous plans, he is left to care for three orphan sisters and somehow keep them from interfering with his diabolical measures. 
Mother and elementary school teacher Joy Craig says "Despicable Me" is "the perfect, funny, light-hearted movie for a family to watch in their down time away from school work." The movie also has "a really sweet message, showing how empathy can change a person as well as an entire family and their culture."
Ranging from an international zombie apocolypse to fun family classics, I hope at least one of the movies on this list is appealing to you. Remember, just because you've already seen a movie doesn't mean you can't watch it all over again!
About the Contributor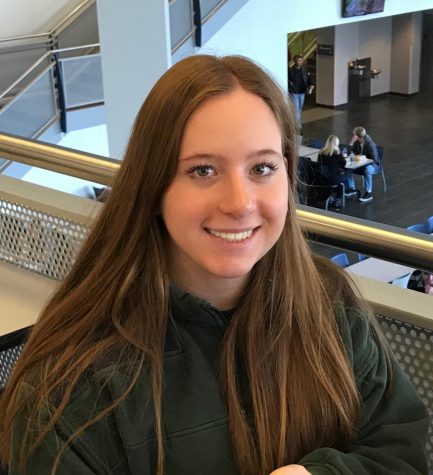 Abigail Craig, Co Editor-In-Chief
I am a Senior at Danbury High School and I have been writing for the Hatters' Herald for two years now. My family has always had a background in writing....