What Halloween will look like amidst the COVID-19 pandemic
Halloween is on a Saturday this year, which is every kid's dream. However, Halloween will lack many of its traditional practices due to COVID-19. Trick-or-treating is being deemed unsafe by Connecticut's governors and officials, so Halloween festivities will need to be modified due to the pandemic.
If trick or treating is a tradition that you just can't go without, the CDC recommends "one-way trick-or-treating where goodie bags or a large bowl of candy are placed outside of your home for families to grab and go while continuing to social distance." Staying safe is the number one priority this Halloween, and there are a lot of different ways you could have fun while remaining COVID-free.
Although partying may be tempting, keeping everyone around us healthy is the most important. Having large social gatherings or going door to door to trick-or-treating would worsen an already trending rise in COVID-19 cases. Although we can't be in-person like we normally would, there are many fun and safe ways to celebrate Halloween with those close to us:
Carve pumpkins with friends outside. Remember to keep a distance of six feet between one another!  This is a fun way to remain socially distanced while still participating in holiday festivities.

If you don't want to miss out on dressing up, have a costume contest over Zoom or FaceTime. Create different categories and reward the best costumes with fun Halloween-themed prizes.

Host a scavenger hunt in your backyard. Hide different Halloween-themed goodie bags and candy throughout the yard and have everyone find it.

Go to a haunted attraction with the people you live with where everyone can remain socially distanced. Don't forget your mask!
Overall, the temptation to celebrate with friends might be strong, but we have to keep our cases low and make sure that everyone is healthy. Even if you aren't high risk yourself, you never know who you're passing it to. Staying home and practicing social distancing could save lives, so wear a mask and stay six feet apart. Happy Halloween!
About the Contributor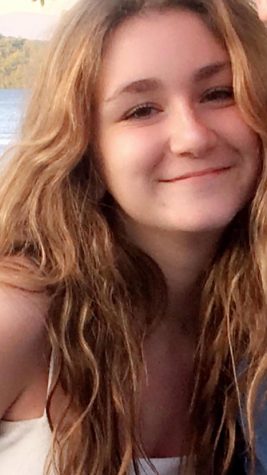 Callie Emmans,
I'm a junior at Danbury High School and this is my first year writing for the Hatters Herald.

I have always gravitated towards writing and literature...