Review: 'Patriot Act' redefines our political conversation, with comedy
Hang on for a minute...we're trying to find some more stories you might like.
Well under way on its second season, "Patriot Act," a political comedy series on Netflix, is an interesting take on stand up comedy fused with journalism. Its host, Hasan Minhaj, former senior correspondent on "The Daily Show" and stand-up comedian, propels the show forward to the forefront the crowded sea of late night news shows. Minhaj is also the first Indian-American and Muslim to host a weekly comedy show.
Episodes air every week on Sunday and explore politically relevant topics (they aren't necessarily timely, but relate to current events and the broader history of the issue) ranging from Affirmative Action, free speech, and immigration. Minhaj tackles these topics in a mere 20 to 30-minute span per episode while providing the audience with a wealth of information on the multiple facets of the issue, which is quite a difficult feat to accomplish.
What's unique and successful about the series is Minhaj's punctuating and powerful delivery of his content. Not only is his content controversial and riveting in itself, the way in which he goes about presenting the information while utilizing his humor to further explain it is different than what other political series have done in the past.
Like his own Peabody-award-winning Netflix standup special, "Homecoming King," Minhaj stands in front of large screens that display an array of videos, images, and data (some of which are humorously edited clips and pictures) and engages his audience with animated hand movements and exaggerated facial expressions. He also incorporates a variety of pop-culture references as well as jokes regarding his Indian-Muslim heritage, which are hallmarks of his personality as a comedian.
Minhaj's sharply informative perspective coupled with his natural lively dynamic broadens his viewer target, as casual Netflix viewers can tune in to his series for entertainment, rather than solely the political content. This creative blend makes the series highly enjoyable for a wide spectrum of viewers and takes the trend of news on social media to new heights.
In fact, "Patriot Act" has reached such a far reach of diverse viewers that the Season 1, episode 2, "Saudi Arabia" has been banned and pulled from Netflix in Saudi Arabia, due to Minhaj's witty criticism of Crown Prince Mohammed bin Salman and his correlation to the killing of journalist Jamal Khashoggi. "I still can't believe it," Minhaj responded on the following episode of his series. "We got Saudi Arabia to issue its very own Muslim ban."
Minhaj's Indian-American Muslim background only enriches his funny, energetic, and charismatic personality and humor, making the series a success in its own right. New episodes air every Sunday on Netflix and are co-created and produced by Minhaj and Emmy-nominated writer Prashanth Venkataramanujam.

About the Writer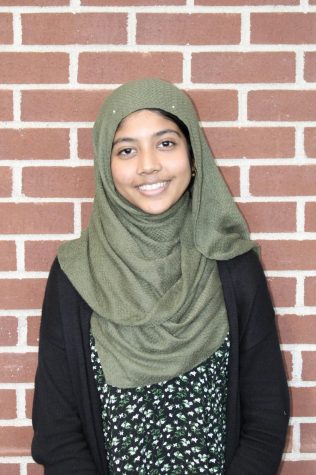 Kazi Begum, Staff Writer
Ever since I was little, writing has been my greatest passion and love. I've won several awards for my creative and essay writing in the past; however,...