How to help animals at the Danbury Animal Welfare Society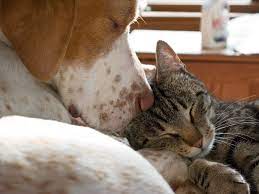 Have you ever wanted to help animals in our community but didn't know how? Well there are always new opportunities like that right now at DAWS (Danbury Animal Welfare Society).
The first opportunity is bringing in donations from their donations list. This list can be found on their website. A few items off their donation list are: paper towels , dry/wet food (Friskies Brand preferred), and pillow cases. These are just a few and there are many more!
If you are 18, you can volunteer at DAWS.  They always need help since all workers are volunteer based. If you volunteer, it may contain dog walking and/or caring for their adoptable pets. If you are not of age to volunteer, there are still other ways to help. You can look on their website under the "Youth Volunteering" tab and find all the information on how to make no sew blankets for cats at DAWS.
You can also raise money to sponsor animals. If you tap on any adoptable pet, you can see that there is a way to sponsor them by donating a certain amount of money. This will help them be cared for while they are waiting to be adopted. On their website, under "Animal Sponsorship" there are options to sponsor an adoptable pet for 1-3 months, all donations costs are listed. Even just a little volunteering or a small donation, like an old blanket, can mean a whole lot to these animals in the shelter.
–