Cross Country Coach Joins Connecticut's Hall of Fame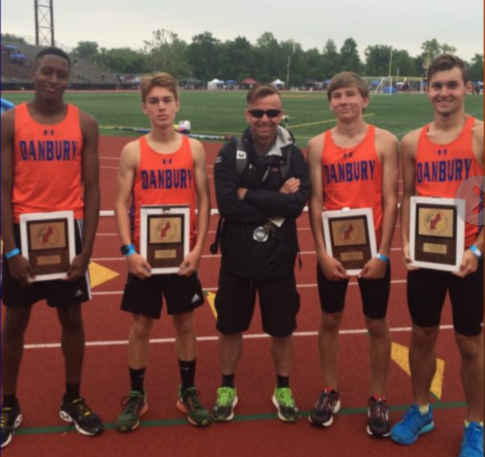 DHS Cross Country coach Robert Murray is currently a part of Connecticut's 2022 Coaches Association Hall of Fame. Coach Murray is honored to not only represent all the people that have helped shape the program, but the hard working athletes that have gone through Danbury High School cross country and track and field for the last 22 years. 
Coaching cross country or track and field for Murray is all about creating strong men that can be successful both academically and athletically. He claims that as a coach his philosophy has never been to receive any awards, but it's all about the growth he gets to see in his athletes over time. 
"I did cross country when I was at the high school for the first time back in 1985," Murray said.  "I was a soccer player growing up and I just did Cross Country to try to work on my conditioning and I ended up kind of being successful in it. From that success I kind of just grew into having a love for the sport and what it offered me physically, mentally, and emotionally. I just kind of carried that through collegiately, college level and then after that I wanted to continue to be part of the sport, so then I picked up coaching. It all began when I ran here at Danbury High School in 1985 through 1988." 
What started for Murray as an occasional activity became a true passion for him. A passion which he got to develop professionally. As a coach he believes some of his best qualities to be his organizational skills and his ability to connect with his athletes over time. It's his experience as a former student-athlete which has helped Murray build those strong relationships. He is able to use that strong connection to encourage his athletes to push themselves to a whole other level. Murray wants his athletes to not only be successful for themselves, but for the team as well. Creating that mutual trust is the key to creating a successful team. 
"We have a lot of psychological exercises and drills that we do," Murray said. "We talk about how they need to see themselves and the things that they need to think about in their training that's creating a certain mindset that is strong and powerful. A lot of kids when they first start are hesitant, they're fearful, they're scared and we try to help them find a really positive thing about themselves. It really comes down to the not tangible things that a coach has to create or help athletes discover themselves which is really the mental and emotional part of racing."
Aside from improving their athletic abilities, Murray wants his athletes to become strong minded individuals that are confident in themselves. Murray believes that we live in a day where most people are caught up in the negativity of what others think about them. That's why as a coach his goal is helping athletes create a positive mindset in order for them to produce worthy thoughts about themselves. Positivity not only pushes his athletes to success but it helps them develop as individuals in a safe and comfortable environment.
Despite the great amount of positivity that Coach Murray tries to incorporate in Cross Country he admits that there is a major challenge he faces as a coach. He mentioned the fact that Cross Country is not considered a primary sport and is not necessarily advertised regularly across media platforms. His biggest challenge has been trying to promote his sport in an urban school. He wants to show students that they can be successful at this sport and that it can open doors for them to go to college. 
"I just take one season at a time," Murray said. "This is my 22nd year as head coach which is 3 seasons and if you add three seasons up over 21 years then I'd put it in about 70 seasons. I find I'm still excited to come to practice, I'm still excited to see kids grow and change."
After several years of coaching Murray still has still kept his love for coaching intact. He will continue his coaching career as long as he maintains to positively affect his athletes and represent the high school at the highest level. Coach Murray says that at the end of the day, cross country can even be something his athletes pursue for the rest of their lives.