Senior Fest!
In the midst of a stressful year managing grades, college applications, clubs, and sports, the senior class works hard to make their last year the most memorable. Every year, Danbury High School celebrates their senior class through a variety of activities. During the fall, one of the most notable events annually is Senior Fest! Senior Fest is exclusively for the senior class to have food, play games, and socialize. Each year, games with inflatables are lined throughout the courtyard where the festivities begin directly after the school day ends. 
This year, Senior Fest took place on September 30th. About 300 to 400 students attended which is an incredible percentage of the graduating class being a little over 600. While the majority of the seniors could enjoy activities for a few hours, there were a few integral members involved in planning the event. Senior fest was planned by its class officers: Casey Ramos (President), Y Nguyen (Vice President), Yennifer Barajas (Secretary), Kayla Taylor (Treasurer) and Georen Chirayil (Parliament). The officers began planning a month in advance, especially dedicating hours of work during the two weeks leading up to the event. 
The officers made sure to be meticulous in their planning as they wanted to maintain DHS traditions while incorporating new ideas. Barajas explained "Previous years had a lot of inflatables, so we wanted to make sure we got that." The officers expressed how trying to find events everyone would appreciate was the hardest part of the process. Their team factored in complaints previous senior classes had about Senior Fest like the lines being too long and the games not being able to accommodate everyone. This year's games included a mechanical bull, throwing darts, and a blowup "spinny thing." The team desired to have even more inflatables and games, yet they had a strict budget to work with. Additionally, there was an abundance of food including hot dogs, hamburgers, snow cones, popcorn, and cookies.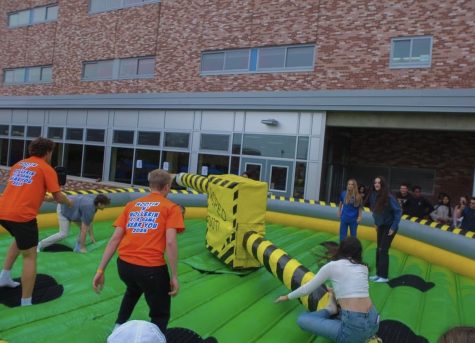 The feedback that was received was mainly positive. People were able to spend time with their friends and indulge in a true senior experience. While there were certain complaints about there not being enough inflatables, this ties into the importance of seniors needing to pay their dues. Ramos said "with such a low amount of seniors who paid their dues we were not given that big of a budget." The team worked to provide students with resources that could accommodate everyone while being responsible with their given budget. 
While the journey of planning Senior Fest was stressful and meticulous, it truly was rewarding for the officers. Ramos shared "I ran for class president because I really do love seeing other people have a good time. My goal was to help them create important, fun memories that they will always look back on later in life." Barajas mentioned how she continues to look at the videos and photos from the event because of how fun the memories were. The small events like Senior Fest bind the senior class together in ways a classroom environment cannot offer them. 
Despite Senior Fest ending, there are still many more senior events to be announced. The officers are working hard to plan events every few months. Their hope is for the senior class to feel appreciated by their high school. Danbury High School wants to thank their senior class officers for doing an incredible job with planning this event, and thank the student body for embracing these exciting activities.