Buying marijuana is 'just a text message away'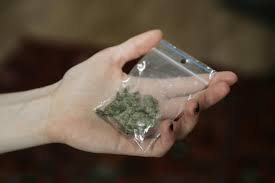 Hang on for a minute...we're trying to find some more stories you might like.
Editor's note: The Hatters' Herald interviewed numerous students who say they regularly use marijuana, or weed, not only before and after school, but sometimes during. While other states have legalized recreational marijuana use, it is still illegal in Connecticut except when prescribed for medical reasons. Although statistical evidence is not available, anecdotal evidence suggests that as laws loosen, more and more DHS students are smoking weed. Teachers have raised the matter to the Advisory Committee to the Principal, and the problem of students coming to class "high" or "zoot"  is often discussed among teachers. Because using and/or possessing marijuana violates state law and the DHS Discipline Code, the students spoke to us on condition of anonymity.
The senior doesn't hesitate when asked how easy is it for a DHS student to buy marijuana.
"It's very easy," she said casually. "It's just a text message away."
A senior boy adds that he has come to school high at least 10 times. "I think it's fun, I don't see any issues with it."
He continued, saying that when he is high at school he can focus more.
" I feel less stressed and only focus on my work," he said.
While many other school districts across the country are fighting a rise in opioid abuse, marijuana appears to be the drug of choice here.
Some students told the Hatters' Herald that they might smoke the drug once a week, while others said it's an everyday ritual, sometimes smoking before school, during school, and after school.
" I think it makes the day go by a little faster and you're more stress free," said a female senior who admits to having come to school high at least 20 times.  "Makes me not worry about the little things."
The senior said when she was a freshman she thought "weed was the worst thing ever and I never did it. Now, I just don't think it's that bad of a drug."
Still, it's illegal in Connecticut and using and/or possessing marijuana in school violates DHS's Discipline Code and, if caught, can lead to 10 days OSS, police involvement and counseling. Teachers earlier this year brought the matter to the Advisory to the Principal, stating the use and odors in the hallways and stairwells were disrupting the educational process.
Some students admit to sparking up during school, while other users say they wouldn't take that chance. Instead, they'll get high before school starts.
Crisis Counselor Caitlin Lewis said she doesn't have hard data to show an increase in use. But anecdotal evidence seems to suggest that it has.
"This is my first year on the job, so I don't necessarily know if it's been more of a problem than previous years, she said. "But from what everyone says, it is. Its definitely a problem this year, with kids coming in high or if they smell like it. And one of the hardest problems in fighting this is kids don't see it as a big problem."
Rob Morlock, one of the school's police resource officers, says that the school "has zero tolerance for it, and the school is doing good job on battling it. There is no wiggle room if someone is caught."
Despite that, students still risk it. Like Lewis said, most students that the newspaper spoke with didn't view marijuana use before or during school as a problem.
One female senior said, "I feel more focused, and less stressed when I smoke."
Students argue that school is more enjoyable when high. When asked why, students respond with, "It makes the time go by faster" or "I feel less stressed and my thoughts are more relaxed."
When asked about why so many students do it, one senior boy replied, "You still know what you're doing. You don't make crazy, dumb decisions and I think it definitely relaxes people. Overall it's a fun time. You loosen up a bit."
Students said they buy the weed from sellers in town, or from other students. On average one student may know three to six people they can buy weed from. It can cost as little as $10 for a dime of weed.
There does seem to be some disagreement as to whether it's a good idea to attend class while high. Some students said it's worth the risk and that teachers should turn a blind eye.
"It does not stop me from doing my work or participating in class," a senior boy said. "It's more about the way I feel and how I'm in a better mood. So teachers should not get upset over it because I am still capable of doing the work."
One student, however, said the odor can be distracting in class. "I do think it gets annoying when you're sitting in class and a kid smells and everyone seems to pay all their attention to that one kid."
Some users will try to mask the odor by using perfume, cologne, or changing their shirt. That's why so many students can get away with coming into the school high. But what about the students that smoke on school grounds during school?
"I think they just don't care enough, and I feel like they lack a common sense to be quite honest. I think smoking is fine but not in school," a junior girl said.
"If you smoke on schools grounds, you're more likely to get caught," she continued. "But I don't know; to each their own."
Although many said smoking marijuana is no big deal in this day and age, just about all them agreed it's something they try to hide from the parents.
"To them weed is like heroin or coke so they'd be very upset if they knew," said a senior girl. "They'd probably threaten to send me back to Brazil. And take away my laptop,my phone, my car, and they'd make me quit work."
Although they may be worried about their parents knowing, the students don't appear to be concerned about the health effects, saying they thought smoking cigarettes were far more dangerous to one's health than smoking marijuana.
"A cigarette has chemicals and toxins in it that are very bad for you; you don't know what and all the different things you're smoking when you smoke that," a senior girl said. "Weed is just a plant; it's natural and there's no added chemicals.
"Your nails don't turn black and neither do your teeth," she continued. "I think if you do it socially and occasionally you don't have to worry about killing brain cells or ruining your lungs because weed doesn't really have that effect. Cigarettes to me are gross."
Besides enforcing state law and the Discipline Code, Lewis said the school continues to battle the problem through education.
"That's the key," she said. "Students need to understand the short-term and long-term effects of using marijuana. Hopefully, the information will trigger something in students not to smoke."