Bathroom conditions continue to deteriorate
Hang on for a minute...we're trying to find some more stories you might like.
Students have become all too familiar with the inconvenience of broken toilets or urinals, the stench of unflushed toilets, and the sight of scratched up mirrors and a littered floor.
"They're old, broken, and disgusting," senior Nicholas Kroeger said of the school restrooms. "There's always toilet paper and something wet on the floor, there's trash in the sinks half the time, the locks on the stall doors don't line up, and nobody ever flushes."
The poor condition of the student bathrooms are due to numerous factors from age to budgetary constraints to student vandalism. The vandalism is what is leading to the administration to locking doors to bathrooms that are prone to a vandal's work.
The City of Danbury is in charge of maintenance for public buildings. A work order system is used for building repairs. Billie Anderson, the head custodian, submits a work order to the city to request a repair. It is then issued to the appropriate tradesperson and a repair is scheduled. Work orders can take time to be fulfilled depending on the nature of the repair and the number of requests.
"They do them all, but it takes time," Anderson said. "If it's a priority or emergency, [the city] would come within the next day. But it depends again on how much work they already have scheduled for that day."
Anderson has been a custodian at DHS for 20 years. He estimates that he submits well over 200 work orders a year. However, the City must prioritize its requests. Emergencies like leaks are fixed much sooner than clogged toilets or broken walls. The delay in fulfilling work orders comes down to budgetary restraints and an understaffed department. The City of Danbury has only four plumbers that are responsible for all 80 public buildings in Danbury, 20 of which are schools or Board of Education buildings.
"They're understaffed, but something has to be done," Principal Dan Donovan said. "It might get to the point where the mayor has to hire another plumber or go to an outside company. There's a lot of city rules and stuff, but we do talk to the city about it."
Each public building creates an annual budget for the city to approve, but often the requests for funding aren't fulfilled.
"Most years they do not get 100 percent of the budget money requested," Rich Jalber, city coordinator of Sites & Facilities, said. "This forces [the city] to prioritize the repairs needed and repair the items in the worst condition."
Previous renovations have been funded by grants, such as the bathroom renovations at Rogers Park Middle School and faucet handle replacements at Mill Ridge Primary.
"The Board of Ed is currently working to see if there is funding available to do restroom renovations at Danbury High School," Jalber added.
The building's age also plays a role in the slow repair process. At over 50 years old, the school is no stranger to maintenance issues. Parts of the building still have original plumbing, so many of the pipes are subject to rust and leakage. The winter months are especially overwhelming because the heating system inevitably needs work done every year, which stretches the employees thin.
"If we had a plumber here 40 hours a week, he'd be busy," Donovan said. "I don't think there'd be much of a lag time for him because as soon as he's done with the repair work that would take forever, there's the maintenance part of it."
There are a total of 12 custodians responsible for the entire 448,000 square foot building. The new additions will also increase the workload, adding more than 100,000 square feet, as well as more bathroom facilities.
"For this size building, we actually should have about 18 to 20 custodians and we don't have that," Anderson said. "We're just way understaffed."
Student vandalism has also contributed to the declining quality of the restrooms. Graffiti, broken mirrors, trash, unflushed toilets, and empty soap containers are a common sight in the bathrooms. A student even broke the corner off of a porcelain sink in a C-building restroom. Another broke the sheetrock walls in the boys' locker room.
One of the most common recurring incidents is the empty soap dispensers, which is usually due to students ripping out the soap pouch.
"They rip it off one day, we put it back up at night, come back in the next day, and they've ripped it off again. It's got to be the same kids doing the same thing. They think it's a joke but it's really disruptive," Anderson said.
The City of Danbury has a policy where it charges the Board of Education for vandalism. For instance, if a toilet has been vandalized, the repair is charged to the board. The city will only fix it if was a malfunction.
"Literally the only good bathroom is the one in A-building and it's always locked, so that's why it's the best bathroom," Kroeger said.
Both of the student restrooms on A-building remained locked most days due to its proximity to the ISIS room. Less students frequent this bathroom, which has made it the best quality student bathroom in the school.
As for the other restrooms, they're cleaned every night, yet custodians are still kept busy on a daily basis.
"It's kind of a Catch-22," Donovan said. "If the bathrooms look like garbage, kids will treat them like garbage. So if they're nice, maybe kids will treat them nice."
The main consensus is that students and staff need to foster a culture where everyone respects their environment and understands the gravity of vandalism.
"It takes a whole community to make a community," Anderson said. "You want your community to look good. You want your school to look good. So to do that, everyone has to pitch in. Everybody has to understand that one hand washes the other."

About the Writer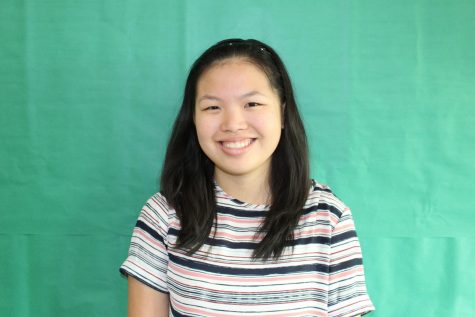 Gillian Brown, Staff Writer
For as long as I can remember, I've always had a love for writing. Whether it be creative writing, poetry, or nonfiction, it's always been an outlet for me. I've had experience with broadcast journalism and I loved how it forced me to familiarize myself with the school and community; it was a gateway to...