DHS Productions rehearsing for 'Godspell' musical
Hang on for a minute...we're trying to find some more stories you might like.
Michael Burnett's goal in choosing a show to produce is to connect it to what's happening in the world. This year's show — the classic hippy production of Godspell — is no exception.
"Godspell is really a show about building a community at its core, and I thought that with what is going on in our world, that was an important theme to bring out. The idea of coming together around love and community," Burnett said.
Originally performed off-Broadway in 1971 and arriving on Broadway in 1976, Godspell takes the biblical characters of Jesus and Judas, several parables, and eight other main cast-members and spins it all together into one production. The show starts with a parable about murder and then goes on to discuss "Love your enemies," after a round of Pictionary and Charades.
While the show is based on the religious story of Jesus, Godspell takes a fun and innovative way to discuss that without being super religious.
When casting this show, Burnett focused mainly on "people that first could handle a challenging score, and then be willing to play around and be children and come to the blocking [rehearsals] ready to play and experiment with different things."
Seniors Gabby D'Ostilio (Jesus) and Ben Pereira (Judas), both of whom have been involved in theatre since their freshman year, have met that criteria.
D'Ostilio has been involved in theater since middle school and has done musicals outside of school. In fact, the reason she joined theater was after seeing Hairspray at DHS in 2011.
She is thrilled to return to the stage as Jesus for her final production, saying "…with my role, I think I have the potential to really teach the audience about the importance of love and community."
Pereira's theater journey, on the other hand, started in his freshman year with In the Heights. He started theater because of a "light interest. I also realized that I needed to join some sort of club. I tried out theater.
It turned into something I always looked forward to. I always wanted to do more of whatever we had learned in rehearsal that day."
Pereira continued, saying "My goal for this show is to outdo myself and give the best performance out of all of the productions I have participated in."
One of the reasons senior Lily Hennig joined the show was due to the positive environment she saw on stage from the audience.
"Everyone cheers each other on and will always give positive reinforcement instead of bringing someone down," Hennig said. "My experience so far has been wonderful. Even though this is my first year, the cast has interacted with me like I have been there since the beginning."
Gabby's younger sister Becca, says that "I got involved into theater six years ago because of my sister and I had done dance for a very long time so I just thought I would do it."
Jordan Madaus, who is in his first production, says that "I just wanted to try something new and since all my friends were in it I just thought I should try it out."
Freshman Harmony Reynoso added: "When I'm having a bad day, I always look forward to attending. The bright vibes and feeling I get, makes me feel like a brand new person."
Divine Thomas, a sophomore, said she is most looking forward to seeing the end result. "I always love when something comes together and like looks good there's nothing like a finished product. so mostly the effort in people to make Godspell really come alive."
Godspell (The Revival Version) will be performed in the auditorium on April 4-6.

About the Contributor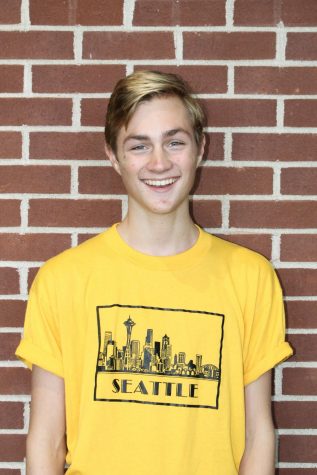 Erik Wallin, Staff Writer
Currently, I am involved in the Danbury High School Theater program. I am always up for a conversation so journalism was the perfect opportunity for me....