Girls' cross-country champion season sets stride for indoor track
Hang on for a minute...we're trying to find some more stories you might like.
As of Nov. 1, the girls' cross-country team was named best team in the state, prevailing in the Class LL's and winning with a total of 56 points, for the first time in more than 10 years; Glastonbury was close, but too far behind, at 97 points.
"This has taken a lot of commitment, and a lot of miles run. Our team consists of a remarkable group of young ladies. They've definitely set the bar for the coming years," said Coach Marsha Turek, who has been leading the team since 2004.
The team had been practicing for their 5K races since June. They had long runs on Saturday mornings in the trails, runs around the city, and workouts before school. Every meet they participated in was a chance to explore their limits and see how they could improve. Turek explained that "if we came back healthy and stronger, we had a great chance of winning."
Senior Cassandra Sturdevant also believes this title will be a standard that future DHS cross-country runners can strive for: "I think this excites younger girls," Sturdevant said, "and lets them know that they can achieve this as well."
Sturdevant credits their win to not only hard work and on-point training, but "following through all of our race plans." Race plans are how the team attacks the course and goes through each mile.  
Valerie Fox, a junior on the team, said, "Practices started to get harder and more race specific, and we made sure we were doing the right amount of training right up until the meet."
The runners are proud of each other. "We've all been working so hard since the summer, and it's nice to see that our hard work paid off," said junior Meliee Kry.
Practice and planning made perfect in this case. Five out of the seven runners placed in the top 17: Lauren Moore placing second (18:59), Daniella Grullon Pena finishing ninth (19:45), Alex Chakar finishing 12th (20:00), Meilee Kry at 16th (20:06) and Cassandra Sturdevant at 17th (20:07). Sarah Johnson and Valerie Fox, placed 22nd and 28th, respectively.
Moore, a senior, said, "Our top eight had a really strong bond this year because of all the work we put in together leading up to championship season, so we leaned on one another to stay focused, and we ran for each other."
Pena, a sophomore, who placed ninth, certainly deserves an honorable mention. Despite this season being her first, Pena proved herself. "I definitely worked super hard for my place on the varsity team, and the team put in lot of work to win," said Pena.
Unquestionably, their hard work paid off; however, the team still faced anxiety and nervousness before the race. "I think most of us get a little nervous in the days before, just because there's pressure on us to do our best," explained Johnson, a junior.
Moore added, "I always have some pre-race jitters, especially with the added stress of it being such a big meet, and having such high expectations for the day." But generally, she explains that she tries not to stress over the other teams, because "ultimately you don't know how the race will go down until you're in it, so I don't bother wasting any energy worrying."
After a great cross-country season, most runners are looking forward to a spectacular indoor track season. Moore said, "This cross-country season is a really good start to track and the rest of the year."
This past weekend, the indoor team surpassed many school records at the Hall of Fame Invite. Sturdevant and junior Chaker, for instance, broke the school record in the 500 with a time of 1:20.02 and 1:22, respectively.
"Cassandra and I are training partners, so we do a lot of our workouts and runs together. During practice we did speed sessions with each other to get ready for this race and it means a lot to have both of us break the old record and for Cassandra to have her own individual record," said Chakar.
Other feats include Ariel Williams winning the freshman-sophomore long jump with a jump of 16-4.5, and Guliana Robles placing third with a personal best of 16-0. In addition, the 4×200 team placed 6th overall.
Indoor coach Nick Fraticelli said these wins are truly a "team effort" consisting of hard work, and a life balance. "That's all I want for the kids," he said. "To have fun, learn about the sport, and leave with a positive feeling about what they'd accomplished."

About the Writer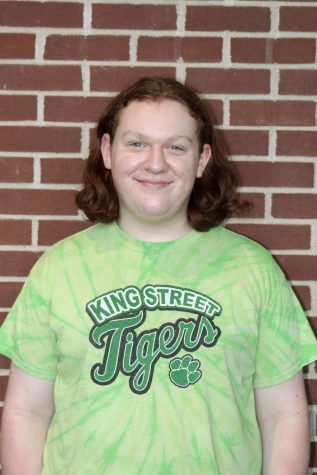 Jake Goodwin, Staff Writer
I think journalism is just so interesting; I'm fascinated by the influence it has over society and people. I also find intriguing how journalism has...