Girls' gymnastics team tumbles towards FCIACs
Hang on for a minute...we're trying to find some more stories you might like.
     With leaps, flips, and bends, the girls' gymnastics team is working hard this season. Despite the small number of members–only three–these girls demonstrate what it really means to be a Danbury Hatter.
     Since the last gymnast graduated in 2005, this is only the team's second year as a revival program. As it's such a new program, the team consists of a few, but hardworking girls: Paz Moran, a freshman, Grace Bennett, a freshman, and Bethany Palardy, a sophmore.
     Because there are only three girls in the gymnastics program, they are not a full team but rather three individual teams of one from the same school. They combine with the New Milford team to compete in the gymnastic meets and practice.
     The team is also coached by Bethany Mihaly, who has been the New Milford gymnastics coach for 30 years and Danbury coach for two. Prior to living in Connecticut, she also coached in Pennsylvania and Georgia.
     "You need at least four members to be a full team and the approval of the school board," Mihaly says. "I enjoy coaching these girls though. The three of them are so fun and sweet and are very coachable. They are making steady improvements."
     Palardy began the girls' gymnastics team last year when she was a freshman. She was the only member on the team last year, but has recently been joined by Bennett and Moran for the current season.
     "It's going pretty well, it's a lot of fun," Moran says. Palardy adds, "Our season is going really well, we have FCIACS coming up soon and I think we're ready for it."
     Thus far, the Danbury girls have competed within New Milford's county, not Danbury's. However, in FCIACs, they'll have to go head-to-head with new competitors that are more familiar to Danbury athletes. That being said, many other "teams" also consist of one to three girls, much like this year's team.
     "When we compete we have the home team start in Olympic order" Palardy explains. "The four events goes vault, bars, beam, floor. The away team starts in a different order, such as bars, vault, floor, beam."
     Coach Mihaly adds, "If they do all four they also get an all-around score. For teams, you can put six competitors on each event and the top four scores count. The Danbury girls are scored individually. They can use those individual scores to qualify for state open competition."
     Given the relative newness of the team, students are eager to learn more about these girls and are impressed with their team. Sophomores Grace Dykeman and Grace Keefe have nothing but positive things to say about the team.
     "I think that it's really cool that we have a gymnastics team and that there are people willing to commit to it," Dykeman says. Keefe adds, "I think that takes a lot of confidence for a small quantity of girls that are participating and competing on the team to represent our school."
Joanna Wenchell, senior, also expresses similar feelings towards the team. "Gymnastics team is a cool addition to the successful teams here at DHS. It's nice to see such young girls taking on such a big role since there are only three of them and I'm excited to see what they are going to achieve."

About the Writer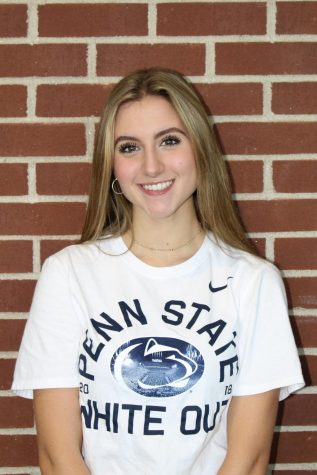 Joelene Hefferon, Staff Writer
This is my first year being a part of the Hatters' Herald. I decided to take journalism this school year to expand different forms of writing. Growing...