Almeida twins lead Lady Hatters on the hardcourt
Hang on for a minute...we're trying to find some more stories you might like.
The Lady Hatters are dribbling towards a successful season co-captained by twins Susana and Sabrina Almeida, and Ty'Lynn Ith. With a streak of 11 consecutive wins, the girls and Coach Jackie DiNardo are only one game away from achieving her 500th career win, making this a remarkably special season for the team.
The team has a promising starting lineup consisting of captains Susana Almeida, Sabrina Almeida, senior Ty'Lynn Ith, and junior Tanisha Cunningham and sophomore Tianna Rogers. However, seniors Susana and Sabrina Almeida are at the forefront, as this is their last year playing as Hatters.
The sisters' great leadership and skills are apparent during their games and can be credited to their long history with basketball.
The Almeida twins' success began 11 years ago, during the second grade, when they first started playing in DiNardo's in-house league at the P.A.L. "My first memory of basketball is when we didn't have enough girls to sub everyone out. The other girls were tired so I kept playing because it was so fun; I didn't even realize how tired I was," says Sabrina.
Susana recalls her first memory involving basketball from when she was a cheerleader in the 4th grade. "We'd cheer for games and I'd just stand in the back, and do nothing but just watch the game. I think that's when I realized I wanted to be out there."
The two played in DiNardo's league until 8th grade, despite transferring out of private school to Broadview Middle School in 7th.
Throughout those 11 years, the twins have grown together as athletes and formed a unique bond, both on and off the court. Susana explains this bond: "Over the years my sister and I have grown to anticipate each other's next move. We have chemistry on the court that not many can find,"
"Our extremely close bond off the court leads to us trusting each other during the game. Being able to comfortably talk to her about the game and knowing she's always there is heartwarming," Susana continues.
Sabrina agrees, sharing a similar sentiment, "I'm so good on defense because she's so good on offense. We push each other every day and I feel like being sisters, especially twins, is such an advantage."
While the twins have shared many successes during their career, they have also faced various challenges.
"My high school career was definitely not easy, especially sophomore year," Sabrina reveals. "Despite all the obstacles [putting pressure on me to quit], I stuck through it and became a starter all last year and this year."
By pushing through these difficulties, the twins have emerged as better players, accomplishing many of their goals.
Susana started varsity point guard as a freshman. She went on to make All-FCIAC 2nd team her sophomore and junior year, and co-captain DHS' team alongside her sister, Sabrina, those years, too.
Fast forward to now, the sisters reflect on their experience as not just a player, but as a captain, a position that both are honored to have.
"I have accomplished teaching the underclassmen the importance of responsibility and respect," Susana says. "I've successfully helped create a 'we can't lose mindset' for everyone around me."
"I really pushed my teammates to be the best players they could be and it shows. I taught them that a good team has to have discipline to succeed," Sabrina adds on. "I just hope they carry what I taught them throughout their future seasons and everyday life."
Rogers, the sophomore starter, also shares her appreciation for the sisters. "I've known the twins since I started P.A.L., and they were always supportive on and off the court. They've pushed me to do better and have created an environment that I can grow in."
Now, looking towards the future, the sisters have new goals and plans in mind.
"I can see my dream of reaching the FCIAC championship game and bringing home a banner, along with my lifetime goal of reaching 1,000 points." Susana expresses.
In a recent game against Fairfield Warde, Susana scored a 3-pointer with 3.8 seconds left to give Danbury a 37-35 win, and Dinardo her 499th win.
"She's not afraid to put that pressure on top of herself. That's her leadership and being a senior." DiNardo said to GameTime CT, about Susana.
The sisters hope to drive forward and lead the girls to DiNardo's 500th win next game, against Norwalk. The team's current standing is 11-3 in the FCIAC.
Once their final season is over, the twins want to continue their career in college. "I plan on playing at the Division III level, but I'm not exactly sure where yet," Susana states. Sabrina agrees, not having decided yet either.
Although they have yet to decide where they will be going, the sisters are determined to keep bettering themselves as players, together.
"I can't imagine what it's like not playing with Susana," Sabrina says. "But I know at the end of the day we have to do what's best for ourselves."

About the Writer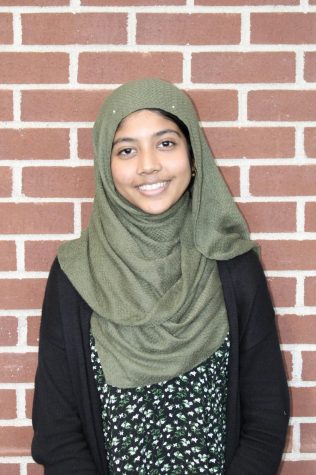 Kazi Begum, Staff Writer
Ever since I was little, writing has been my greatest passion and love. I've won several awards for my creative and essay writing in the past; however,...