Campoverde wins prestigious Scholastic Gold Medal for artwork
Hatter will join other medalists at Carnegie Hall celebration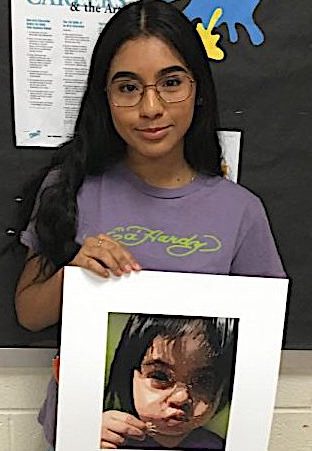 Michael Obre has been a Danbury art teacher for 21 years and in that time, he had seen only two Danbury students be recognized nationally with a Scholastic Gold Medal.
Now, however, he can add a third name to that list. After much hard work, senior Viviana Campoverde has been awarded a Scholastic Gold Medal for her digital art piece "Flower Child." Since 1923, according to its website, the Scholastic Arts and Writing Awards have "recognized the vision, ingenuity, and talent of our nation's youth, and provided opportunities for creative teens to be celebrated."
"
Viviana's painting has such a strong sense of light it vibrates across the child's face … She portrayed a very sweet and fleeting moment,"
— Kerri Swenson, art teacher
The way the National Scholastic competition works is that in the first round competitors can be awarded an Honorable Mention, Silver Key, or a Gold Key. If competitors are awarded a Gold Key, as Campoverde was, their piece is automatically considered for a Silver or Gold Medal in the second round.
Campoverde was awarded this Gold Medal because out of 340,000 submissions worldwide, she scored in the top 1 percent of best submissions. In addition, "Flower Child" will be displayed at Parsons School of Design in New York City and she will be honored at a star-studded ceremony at Carnegie Hall on June 6.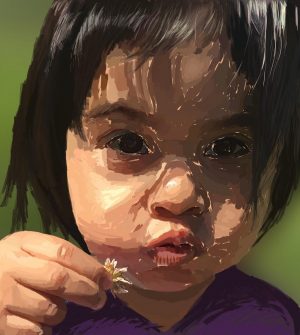 The senior artist was going through her email one afternoon when she saw that she had received a missive from the organization. The email stated that any Gold Key winner should log into their portal and see if they had received a medal. Campoverde wanted to wait until she spoke to her art teacher Kerri Swenson, before she checked. A few hours later, Swenson emailed her to let her know that she had won a national medal.
Campoverde later logged into the portal to check for herself. "In big orange letters, it stated that I had won a Gold Medal. It took a little while to sink in, seeing as my name had never really had this type of recognition before. However, eventually, I began to feel ecstatic and joyful that something I made was being appreciated by many people," Campoverde said.
"Flower Child" was first inspired by Swenson after Campoverde turned in the first draft of the piece as an assignment in Introduction to Digital Arts and Swenson convinced her to keep working on it. Swenson has served as a mentor to Campoverde ever since.
"She has never hesitated to do anything that supports me and my art. She's been very patient with all the paperwork and has tried to answer any questions about the Gold Medal award to the best of her knowledge. I chose her as the teacher to represent it because she's the one who inspired the existence of the piece in the first place, and even suggested it to be submitted." Campoverde said.
When Swenson first saw the piece she thought that Campoverde should submit it because it reminded her of an impressionist art piece.
"Impressionist artists strove to capture the way light fell on their subjects at certain times of the day. Viviana's painting has such a strong sense of light it vibrates across the child's face. From a technical standpoint she didn't use photoshop filters, she purposely changed brush sizes and textures so nothing feels contrived by the computer. She portrayed a very sweet and fleeting moment," Swenson said.
In addition, administrators such as principal Dan Donovan and Superintendent Sal Pascarella, Jr. are thrilled to see a Danbury student win such a prestigious award.
"Our goal in the Danbury schools is to offer a rich and comprehensive educational experience to all our students," Pascarella said in a news release. " To have Viviana receive such an outstanding honor validates the need to continue to support the Arts as part of the Danbury experience. I am very proud of her."
Donovan added, "I think it is an outstanding honor. I am also not surprised Viviana won the award.  The artwork she and the rest of her classmates create is remarkable. It is easy to see why Viviana was chosen for the award. All of DHS is extremely proud of the artwork Viviana has produced and can't wait to see more."
As far as what's next for Campoverde, she said she is still deciding whether she wants to attend Montserrat College of Art, or Massachusetts College of Art and Design. However, she is certain that she wants to pursue art education.
"I want to be an art teacher because I admire the environment my own art teachers create," she said. "Most of my days are spent around art teachers. The way they are able to motivate and uplift future artists only inspire me to want to do the same."
While Campoverde has spent a majority of her time working on pieces that involve traditional mediums such as painting and colored pencils, she has been working on another digital piece.
"It involves a woman of color, dressed in an ancient white garment sort of style (similar to the clothing called peplos), posing lazily on a green couch with a surrounding fiery aura," the art student explains.
"I've seen old statues and paintings with young women in dramatic poses wearing the bright white clothes of their time," she continued. "I liked the idea and aesthetic of it, and I wanted to draw a similar, more modern version of that look that applied to the objects and people we see frequently today."
Swenson said that Campoverde will go far in her art. "Viviana sees through an artistic lens and makes high level visual connections but more importantly," Swenson explains, "her work ethic and perseverance are huge assets for a career in art."
About the Contributor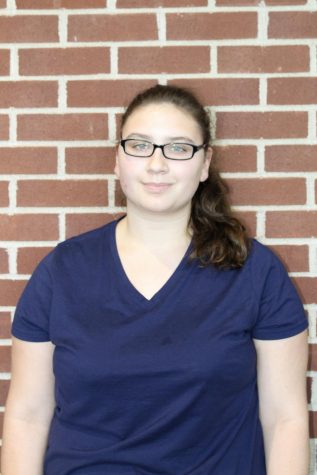 Jenna Coladarci, Staff Writer
This is my fourth year writing for The Hatters' Herald. I joined the Hatters' Herald because I love writing and I am always looking for places where...