DHS' top athletes sign Letters of Commitment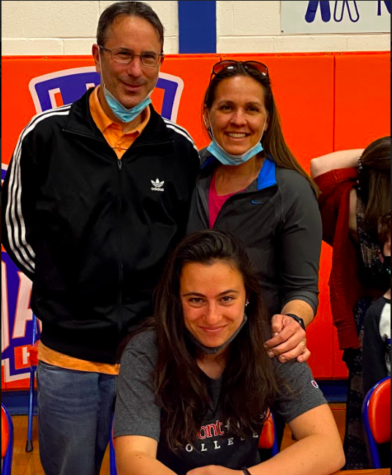 Maya Gawley: Belmont Abbey College  — Track/Cross-Country
Maya decided to join Belmont Abbey for many reasons. Firstly Maya loved "the amazing and beautiful location right outside of Charlotte". Maya also added that upon her visit, "[she] couldn't wait to be a student there". Gawley typically runs the 800m and 400 m dashes on Coach Fraticelli's  track team at DHS, however she has also always loved the long jump. Gawley admits that her mother introduced her to Belmont Abbey in the first place, and without her along with her father, she would not be where she is today. In her time at DHS , Gawley has captained the Cross Country, Indoor and outdoor track team. In addition to this already impressive resumé, Gawley has medaled in the FCIAC, State, State Open, New England and National Championships. When Gawley looks back at her freshman self, "[she] can relate to her, but [she] is not the same person". She believes her growth and maturity during high school is because of Mrs. Hanrahan, Coach Turek, Coach Fraticelli, Mr. Holmes, and Mrs. Mohs. With her accomplished career so far, we cannot wait to see what Maya has in store for the future.
Payton Bock: Jacksonville University — Track/Cross-Country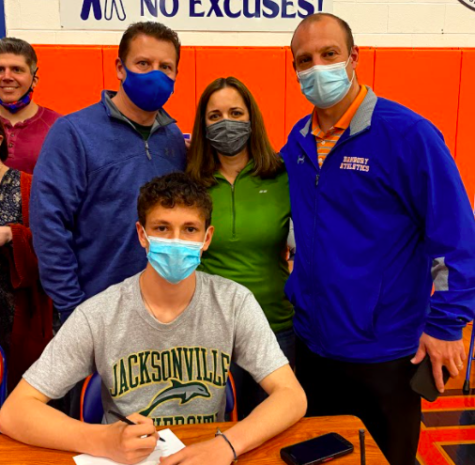 Payton's decision to Jacksonville was mainly due to the school itself. Bock commented, "[Jacksonville] is secluded yet close to the city and right on the water. Also [Jacksonville has] a great Marine Biology program on campus". Payton typically competes as a 5k runner as well as in the mile. Bock has him family to thank in getting him here. "My family has always put faith in motivated me to run my best." Bock added, "Even though they did not know much about the sport they learned as I went through my years at the high school. I could always count on my family to support me. They have always been in the stands at every meet." This family support also extends to the track team at DHS. Payton believes his teammates are "a big family and [he] can always count on them to be there." Payton has earned a sportsmanship award in high school for his efforts both on and off the track. DHS will miss Payton when he goes south for the fall, but we wish him the best nonetheless.
Jared Zeiner: Central Connecticut State University — Track/Cross-Country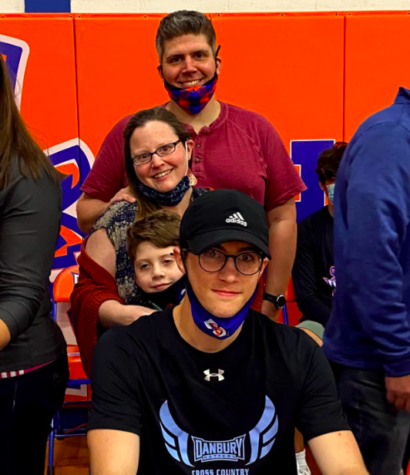 Jared will be a CCSU student this fall. The cross country and track runner, will continue his athletic career as a Blue Devil along with majoring in exercise science. Zeiner mainly competes in the mile, two mile, and 5k races for the cross country team. Zeiner claims, "[his] family has supported [his] passions and helped push [him] towards where [his] abilities are right now." Jared has been on the Varsity Cross Country team since his junior year and has received the team's "Bulldog award". Finally, Zeiner wants to thank his coach, Rob Murray for his efforts and guidance. Jared described Coach Murray as, "one of the biggest inspirations in [his] life." Zeiner coupled this compliment, saying "[Murray] has undoubtedly pushed [him] harder than anyone else has before and [he looks] up to him as more than a teacher/ coach. [Zeiner looks] up to him as someone [he strives] to be like one day." Coach Murray, the cross country team, and DHS as a whole will miss jared when he departs for New Britain in the fall, but we wish him the best of luck on his future endeavors.
Stephanie Coelho: Field Hockey — Western Connecticut State University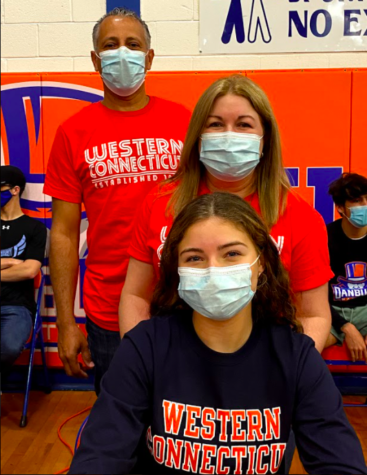 Stephanie Coelho was looking for a close to home feel for her further education, which is what led her to choose WCSU. Coelho claimed that, "once [she] took a tour of both campuses at WCSU [she] felt very welcomed and [she] felt like it was a right fit for what [she] was looking for." Stephanie is a goalie, a position that takes guts to play. She started her training as a goalie in her sophomore year, and played in her first game as a junior. Coelho has, "loved the intensity ever since", and she got pretty at it in the short span of two seasons as she will continue her journey at that position in college. Coelho admits that the college process can be scary. "It can feel intimidating and scary at times when you are looking
at colleges and speaking to coaches expressing that you want to move forward in your athletic career", said Coelho. She added, "so support from family and friends are super important to an athletes decision on making the right choice and also knowing that they'll always be there for you to cheer you on." Stephanie was a team captain in both her Junior and Senior year, and was a recipient of the sportsmanship award as a Sophomore. Coelho encourages incoming Freshman to ,"be a part of a sport or club. It opens so many doors for success and opportunities." We urge Coelho to come back and visit DHS often, but we aren't too worried about that since she claims, "[she] will always be a Hatter!".
Avery Amalfitano: Soccer — Keene State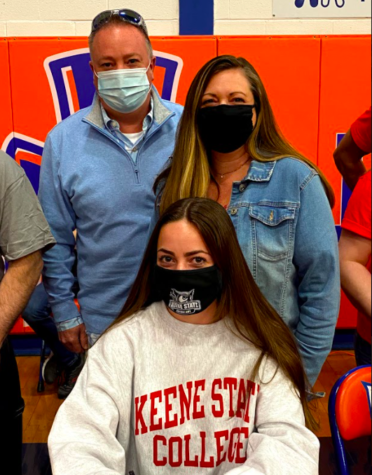 Avery decided on Keene State due to the fact that she, "fell in love with the campus, small town feeling, and scenery". The coach offered her a spot on their soccer team, "which was a huge additional component that lead to [her] final school decision". Amalfitano plays defense for DHS' girls soccer team, and she thanks her, "teammates who pushed [her] and made [her] a better player along with making every season fun". Along with her teammates, Amalfitano also acknowledges her family for their support. "My family has always supported me and really got me to where I am today", Amalfitano claimed; She later added, "If it wasn't for them putting me into soccer from when I was little, to then helping me make my college decision and career path, I don't know where I would be today". Lastly, she thanks her coaches, Jessica Halas and Dallas Moore, "for helping [her] throughout high school on and off the field to get to where [she is] today". The DHS community will miss Amalfitano in the fall, but we wish her the best on her endeavors as a Keene State Owl.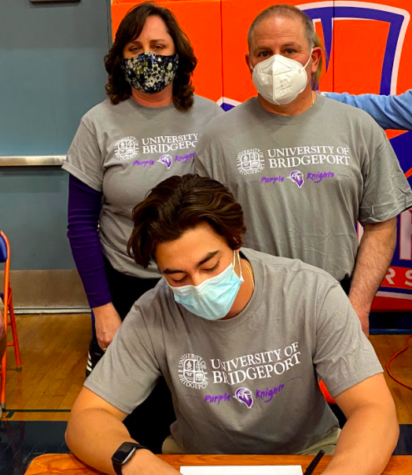 Ryan DiLillo: Baseball — University of Bridgeport
Bridgeport has always been "on the radar" for Ryan DiLillo. DiLillo was searching for a school where he could both major in nursing, and play competitive baseball… with Bridgeport he found both. After sending film to the coach, he was offered to come visit and eventually offered a spot on the team. DiLillo said, "[his] decision was basically made". The left handed pitches thanks his family for getting him to the point he is at now. "From the start of tee ball to my last high school game I know they've always supported me", DiLillo said. A lot of Ryan's family are nurses as well. So his opportunity, "To major in something [he] can relate to with [his] family is pretty cool. He is looking forward to both his athletic and academic career at Bridgeport, and the DHS community could not be more excited for him.
Kevin Vidmar: Basketball — Western Connecticut State University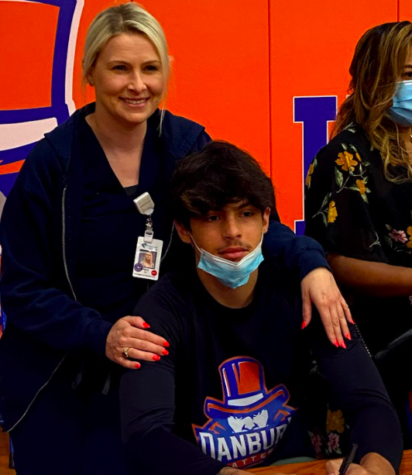 Kevin Vidmar's path to WCSU has been paved ahead of him. "All of my family members went to WCSU", said Vidmar, "so it just feels right to follow in their foot steps". Vidmar is a shooting guard, but can play both guard and forward positions. Vidmar claims that,"[his] mom is for sure the biggest supporter when it comes to anything". But the support comes from all of his family. "[they] have been supporting me my whole life, so them helping me get to college was no surprise", Vidmar added. The first team All-FCIAC and All-STATE honorable mention is simply just excited to play basketball at the next level, and DHS is excited for him too.
Liam Knight: Wrestling — University of Southern Maine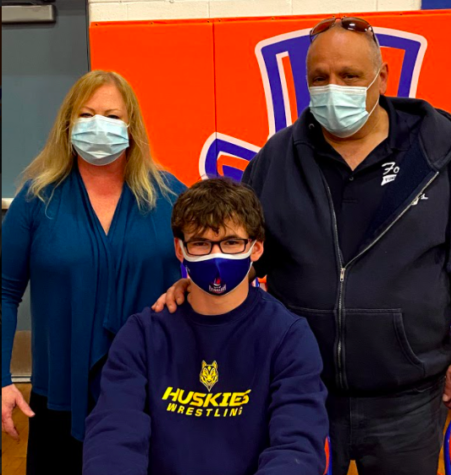 Liam Knight's athletic journey is not the typical one. Unlike many of DHS' collegiate athletic commits, Liam's best wrestling came with the Maine team, for the past 7 summers. That is since sixth grade if you didn't feel like doing the math. Knight would travel with Maine as far north as the Canadian border, and as far west as Nebraska. Knight will major in Computer Science, and he has his teacher, Mr. Miller for this.  Knight claims, "I literally skipped my lunch to learn things from him whenever I could", Same thing with his other teacher Mrs. Mohs. Knight reflects on his athletic career as a Hatter and know he could do better. He admits that "wrestling is a mental sport, more than it is physical". He went into detail about how he would not be able to center himself mentally for a match during the school year. However, all of the mental difficulty flew out the window when he traveled with Maine in the summer, where he only lost one match. We hope that knight continues his success with USMaine during his collegiate career
Mason Phuong: Football — Western Connecticut State University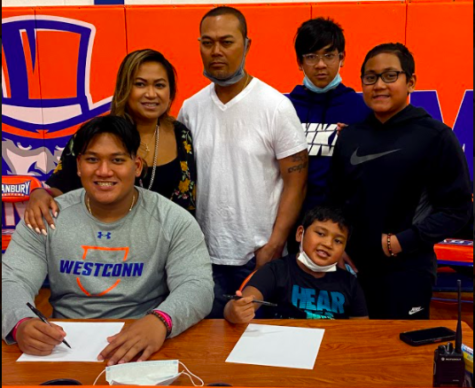 Regiane Silva: Field Hockey — Western Connecticut State University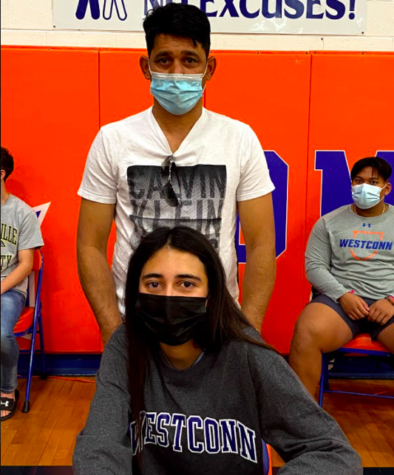 NOT PICTURED:
Aidan Messuri : Lacrosse — Mitchell College
Marcos Dominguez: Baseball — University of Bridgeport