Mercer wins Dickinson Memorial Award
Volleyball officials honor DHS setter
Hang on for a minute...we're trying to find some more stories you might like.
Composed and precise is Megan Mercer, known as one of the best setters in the FCIAC , leading her team on the court.
Senior Megan Mercer has won the Dickinson Memorial Award award — presented by CT Federation of Volleyball Officials — for her excellent skills, leadership, teamwork and sportsmanship.
This award proves Mercer's immense impact during each and every game. "As a captain and as a senior, it's my job to show great sportsmanship and to be a leader," Mercer said, adding that it is her role "as a setter to make sure everyone on the court knows what plays are running and what plays the other team is running."
Senior Shea McNamara has shared the court with Mercer for the past four years.
"One of Megan's jobs as captain was to talk to the referee if there was any confusion.  In a tense situation like that, it is easy to let your emotions get the best of you and lash out, but she always kept her composure and was respectful," Mcnamara said.
To be deserving of such a significant award takes lots of energy. In a tough sport such as volleyball, it's not easy to always keep your composure. "I think I do deserve this award," Mercer says, "because throughout this whole season I stressed how important communication is to the team and that played a huge part in our success."
Mercer's leadership on the court is what gave the team an extra push to give it their all and make losing a learning experience."I remember when we lost for the first time this season the whole team was devastated and angry," McNamara said. "Megan got us in a huddle and told us to pick our heads up, stop crying, and go shake the other team's hands because they deserved it."
Mercer says that it her duty "to keep the spirits high on the court and I worked hard each game and each practice to make sure there were only positive vibes."
Coach John McMillan has plenty to say about Mercer as he considered her the "MVP" this season.
McMillan describes Mercer as "the best athlete on the team, our top server and the general on the court as our setter (like the QB on a football team)."
This award wasn't for just an individual effort; the whole team played a huge role. Mercer explained, "We always had each others backs and we all shared the same values when it came to staying positive and always fighting. It really helps when you have a team and coach who support and share the same beliefs.
"Being a captain and receiving this award, I can only hope that it inspires other girls to step up and be leaders," Mercer continued. "I hope that it shows them that hard work does pay off and to never stop working hard."
Her hard work is recognized by her coach he saying that "her dedication was unmatched."
The girls' volleyball team had an impressive season (15-5, 11-5), reaching the semi-finals of the FCIAC and the second round of the state playoffs. "Coming into the season, I did not know how it was going to go," Mercer said. "But after the first couple of practices and seeing the positive attitudes and drive we all had really surprised me and I knew we could do great things."
Mercer was also named 2nd team All-FCIAC, 2nd team All-State and made her appearance in the FCIAC Senior All-Star game.
Her passion for volleyball led to her success on and off the court. "I absolutely love everything about the sport and I am so excited that I get to continue it into my college career," who has committed to play at Southern Connecticut State University.
McMillan added, "The award is a tribute to her and her hard work. Megan has grown tremendously as a player and person in the four years she has been in the program. The best thing about coaching is watching nervous freshmen enter the program and see them grow to become confident leaders and young women who will make an impact."

About the Writer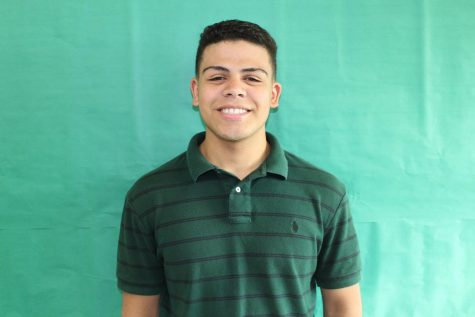 Matthew DeLima, Staff Writer
I consider myself a sports fanatic. I live, breathe, and sleep thinking about working for ESPN and talking about my passion on live TV.  Journalism has...