Students demand action on stricter gun control
Hatters remember the lives of victims slain in Parkland massacre
With the ring of the advisory bell, about 1,000 DHS students and faculty on Wednesday, March 14, walked out of the building, gathering in the front to show that they are done letting Congress dictate their safety, and that Parkland will be the last school shooting.
Following the Marjory Stoneman Douglas massacre Feb. 14 in Parkland, Fla., where 17 students and teachers were killed, MSD students spoke out against gun violence. Over social media, they called for students across the nation to join them March 14 in a walkout to send a message to lawmakers that they want action on gun control.
Soon after, DHS seniors Madison Albano and Gillian Brown joined with freshman Morgan Albano and decided that Danbury needed to participate in this national protest. The team also enlisted the aid of social studies teacher Michelle Passarelli and met with Principal Dan Donovan for his approval and input.
Both students and staff described the event as one with the utmost passion. Especially during the speeches, many reported that they couldn't help but cry.
"I think it's time for our school to come together and stand behind one topic," Donovan said. "The tragedy at MSD needs to be acknowledged and used for some sort of change. I think our students and staff had enough."
Senior Jakob Camacho described the experience as "exhilarating" seeing not just Danbury, but the nation, joining together to support gun control.
Sophomore Roshni Vasudevan said, "It's necessary to exercise our first amendment to express our distress for what happened in Florida."
Donovan said that the event highlighted, "how caring of a community DHS is."
It is the hope that these demonstrations for gun control will lead to state legislatures and the Congress to decide that stricter measures are necessary to protect lives.
"
I wish to do whatever I can to make sure no other community can feel the true horrors of gun violence."
— Morgan Albano, freshman
Science teacher David Honeyford said, "I hope that it kind of brings home the point that we all are interested in the outcome of this discussion, this political debate [of gun control]. So whatever the outcome, I want our politicians to know that we are paying attention."
Others say that they also believe that this experience will benefit the students themselves, along with the laws of the U.S..
"I hope that some of the students are actually able to get a little bit of awareness about the national issue," said science teacher Megan Hughes, "and that they realize they are the next generation that will be dealing with problems as such, and it's not just the students in Florida or any other school. It could've been our school. I think that, you know, hopefully they can start to realize that we're not an isolated island here and they need to come together to do something."
The event — titled the Student Advocacy Initiative — was spurred on by Brown and the Albanos after they decided that gun control was necessary.
"We wanted to organize this event because we knew something had to change," Brown said. "Lately it seems like something as horrific as a mass shooting is becoming old news. Tragedies like school shootings are becoming too common."
Brown described how living so near to Newtown — where the 2012 massacre at Sandy Hook Elementary School took the lives of 26 — impacted her and made her desperate for change.
"We wanted this to be an organized event with a purpose," she said. "We wanted our message to be loud and clear. From the start, Donovan was very supportive. Our first meeting with him, he said first and foremost, 'Look, this is happening.' He thought it was a good idea and really cared about the cause. He just wanted to be kept in the loop of our plans. He helped us work out some of the logistics and left us in charge of the rest."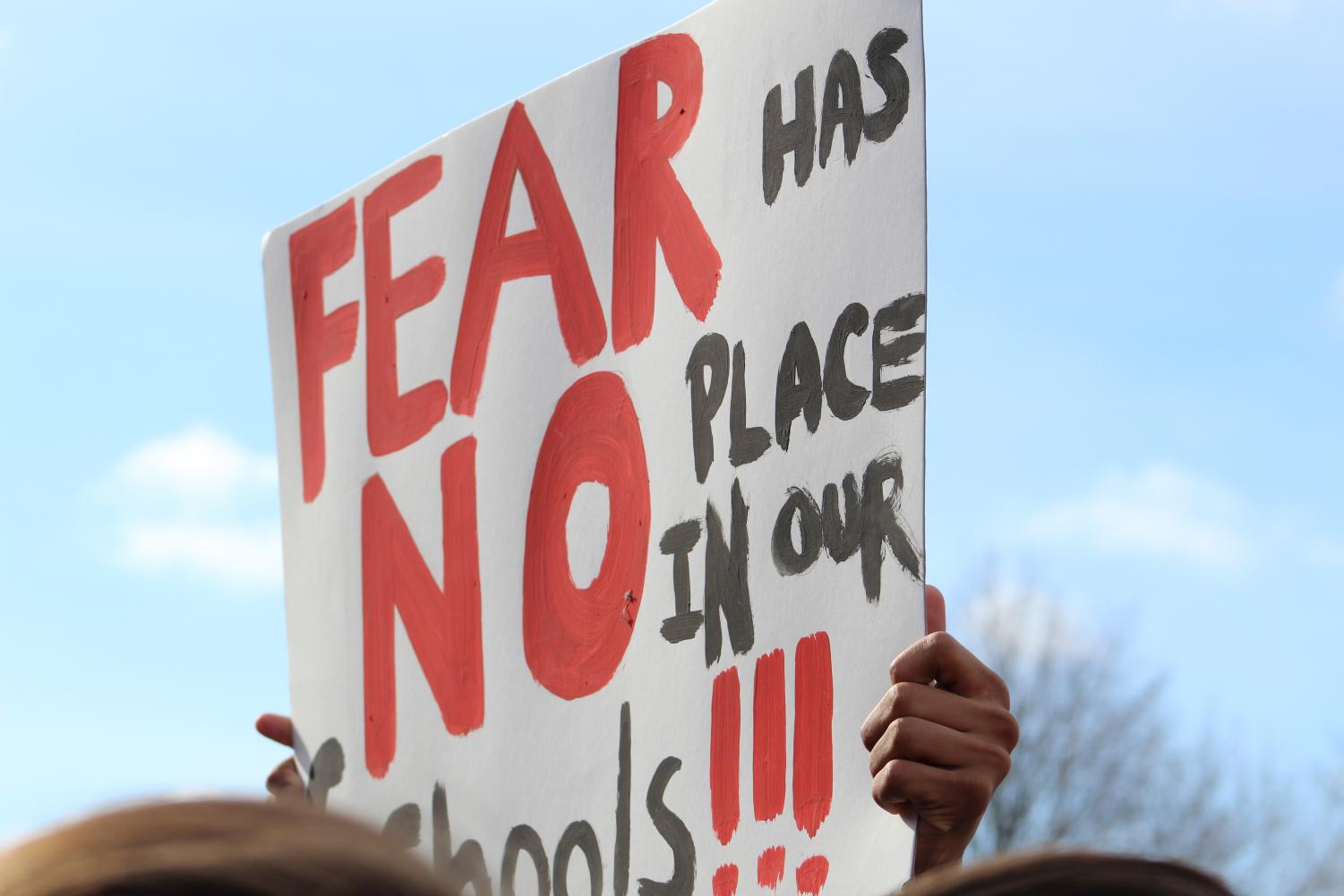 Donovan said that this level of organization was beneficial for everyone, saying that he had many parents compliment the students for involving the administration, making it more of an official event than just a walkout from class.
"I thought it was great that the administration supported the students, moved the advisory, and made the day special so that the students wouldn't have to walk out of classes," said social studies teacher Louwenta Fraites.
Other students said they appreciated the administration's support.
"I feel like our school is a big part of our lives and for the school to help us express our opinions in a way that other schools might not offer is a great thing for us as a community," senior Solomon James said.
Because of the Tuesday snow storm, organizers had to move the event from the snow-covered football field to the front of the building. Police blocked traffic on the access road as about 1,000 students and teachers stood shoulder-to-shoulder despite the cold. Police presence was also increased for the day for the protection of students, Donovan said.
A choir riser had been set up to the left of the main entrance for the speakers to stand. The speakers and those who volunteered to read bios of the victims lined up in order, and they were surrounded by supporters with signs calling for action.
Posters declared: "Ban the AR-15 so we can grow older than 17," "Our lives are more important than your guns" and "Never Again." Orange was everywhere — the symbolic color for the gun-control movement.
"Our main goal of the Advocacy Initiative was to honor the 17 victims of Stoneman Douglas," Brown said. "We wanted people to realize that they're not just names in the news, they're people. That's why we really liked the idea of having students read bios of each of the victims. We wanted to showcase that these 17 victims are kids just like us."
As students spoke, others distributed maroon ribbons (MSD's school color) to pin on their jackets.
Morgan Albano was the first to read, mentioning her intention to turn these tragic events into positive change.
She said, "I wish to do whatever I can to make sure no other community can feel the true horrors of gun violence."
Then came junior Cassidy Holmes who called everyone out to take action.
"I've noticed a pattern with how most people react to another tragedy. They first find out, feel sad, post prayers and condolences and then move on with their day. Your prayers and condolences are heartwarming; but, you know what's even better? Action."
After her speech, bios of the victims were read by Leah Dolan, Laiba Qureshi, Sabine Dempster, Alisha Nagarsheth, Ben Pereira, Sam Mortara, Ashley Corrie, Jalinette Abreu, Rebecca D'ostillio, Caroline Magyar, Emma Brenner, Gabby D'Ostillio, Joy Hendrix, Andre Gonzalez, Cami Slingerland, Morgan Albano and Elisabeth Kelly. Some of the readers had written the bios, but others had been written by Shannon Ahearn, Ayesha Akhter, Brown and Madison Albano.
Senior Taylor Hay, speaking at the end, called for policy change, saying that she is done with gun violence, and the students cannot be stopped, regardless of their age.
"We, as Americans, have gone through enough of these shootings … We, as Americans, have lost enough of our friends, our family members, our teachers, our coaches, our lives, to gun violence. We, as Americans, have had enough. Stricter gun laws, more thorough background checks, and bans on semi-automatic assault weapons may just be the step we need to take in the right direction to end this suffering tha many of us have endured."
As a whole, those involved reported how proud they were of the success of the event.
"Overall, I'm very pleased. I believe we sent a strong message that change has to happen," Donovan said. "I thought all of the bios and speeches read were very powerful and I really hope change occurs and we can all say we were a part of this change."
Organizer Madison Albano was also satisfied with the event.
"I think it went pretty well. The people who did their speeches and bios did an excellent job reading and we were happy so many people brought posters to show their support," she said.
Faculty organizer Passarelli felt pride for the all the students involved — from the organizers to the participants.
She said: "It takes a lot for a young adult to speak up in front of a thousand kids. [I'm] very proud of the students that did take part in it and very proud in leading the effort for the cause of the school."
She also said to those who are passionate about the issue that there are more marches for gun control on March 24 and April 20 in Hartford and Washington, D.C.
Freshman Divine Thomas said the event showed "that even people at a young age understand that gun violence should be stopped. We're mature enough to know what we want in life."
Brown said that with the event comes the hope that no one loses their life to gun violence again.
"We wanted to draw attention to the fact that our country needs to make major changes. Protecting children shouldn't be a heated political issue. It's just common sense. We hoped our fellow students would realize that everyone has the power to take action and make change."