Sullivan leads three sports teams
Hang on for a minute...we're trying to find some more stories you might like.
Catrina Sullivan is a versatile athlete with strong leadership abilities making her a hit on and off the multiple courts that she plays and excels on.
Sullivan, senior, was a captain of three team sports this year: girls' volleyball, basketball and tennis.
Sullivan has showcased her athletic talent and leadership skills from a young age. She began playing basketball and tennis as a young girl.
"I was a little kid, when I joined the inhouse PAL league in 2nd or 3rd grade. I've played tennis as long as I can remember," she says, "because my mom played it and she inspired me."
However, Sullivan's favorite sport became the one she started her freshman year at  DHS.
"My cousin was a senior at that point and she convinced me to try out," she says. "It was basketball for the longest time but ever since high school started, my favorite became volleyball."
The star senior's natural leadership abilities come from playing sports with her little sister as she looked to teach her everything she learned.
"I took that older sister vibe into practices and helped my younger teammates learn and improve, even if I didn't know everything," she says. "I always had this mentality, and I think my coaches and teammates saw that."
Sullivan's main priority as captain in all three sports  is to support her teammates, "since most athletes aren't as open or comfortable speaking to coaches, they should be able to easily come to us captains."
Senior Emily Grenier, who has played volleyball and basketball with Sullivan since freshman year, said that "she's [doesn't] only [have] skill set but she's got everything. She takes the time to help athletes who need to improve and get to their potential, and I think when coaches see that figure they see what a difference that person has made."
Sullivan's duty per team slightly differs. For volleyball, "we used to do peppy speeches before every single practice; for basketball, we had a tough coach so it was my role to inspire and motivate the team to do better; and for tennis, we teach everything from the very basics because a lot of the girls haven't played before."
Sullivan's coaches and teammates praised her achievements, commitment and dedication to her athletics.
Kelly Macey, tennis head coach, acknowledged the athleticism and competitive spirit that helped Sullivan further her game.
"She came in saying that her mom is really big into tennis and wanted to try it out. Her skills needed a little bit of work, but she had this competitive edge in her, she was very athletic and learned stuff pretty quickly."
Macey states that "[Sullivan] has greatly developed, she's our No. 1 singles player now."
So far, the girls' tennis team has a record of 1-7, with its only win coming against Abbott Tech at home on April 11.
Sullivan had strong performances against Stamford High and Abbott Tech this season, beating her opponent by a score line of 6-2, 6-0 and 6-0, 6-0 respectively.
Senior Brooke Belanger, who has been playing tennis with Sullivan since they were in middle school, said that she has and always will be in contention for a leadership position.
"She's very outgoing and easily makes connections, and I believe she was always a front-runner for a leadership position on any sport team."
John MacMillan, volleyball coach at DHS for 12 years, says "it was clear she [Sullivan] was a terrific athlete when Catrina began volleyball four years ago as a freshman. She wanted to be a middle hitter and made varsity the following year as a sophomore. Always a hard worker, she worked on her game and improved dramatically each year."
Sullivan led the volleyball team this year with a .359 hitting percentage, 261 kills, 43 blocks, while also having 49 aces and 76 digs.
Her achievements earned her a place in the FCIAC All-State 2nd Team and 1st Team CT Post  All-Area Team.
Sullivan's favorite part about being captain is witnessing the results of her teaching and assisting.
"I love seeing all the new girls and all the freshmen and seeing them learn," she says. "It's awesome when you're teaching them something, they get it right, and their face lights up, I love that."
Ty'lynn Ith, basketball teammate, explains that when Sullivan speaks, the whole team listens to what she has to say. "I think that's what sets her [Sullivan] apart from most captains, she's not aggressive but assertive in a meaningful way."
"She's got a great amount of leadership, confidence, always played hard and led the team with action and words," says basketball coach Jackie Dinardo, who has been at DHS since 1987. "All of the girls looked and look up to her."
Sullivan's demeanor and her ability to help others improved the team on the court and off it, says Dinardo, an important factor and figure to have on a sports team.
Sullivan's last high school basketball season saw her average six points per game, eight rebounds per game, and three steals per game as the Hatters' ended with a record of 10-10.
MacMillan explains that "she was a leader on the court, and was not afraid to take the big shot in a close match. Because of players like Cat and the other seniors the team got along great and exceeded expectations and finishing extremely well in the FCIAC and overall."
Emily Grenier, Sullivan's basketball and volleyball teammate, adds that Sullivan is always advising and working with the volleyball team, pushing and motivating the basketball team to do better, and works to make sure the level of competitiveness stays high in an individual sport like tennis.
Even though tennis is an individual sport, Belanger states that Sullivan as a captain pushes for cooperation and teamwork. "We win together, lose together, and I mean that's another reason to why she's a captain of that many teams, she always takes being a team to the next step, a higher step," Belanger says.
Macey said that Sullivan will be missed due to her personality and work ethic.  "She's an inspiration to the younger girls so she's definitely going to be missed by all, the school and sports teams."
Ith adds, "I know I'm going to miss her, but no matter who she plays for or with in the future, whether it was tennis, basketball, or volleyball, she's going to achieve great things, be successful, and own the court."

About the Writer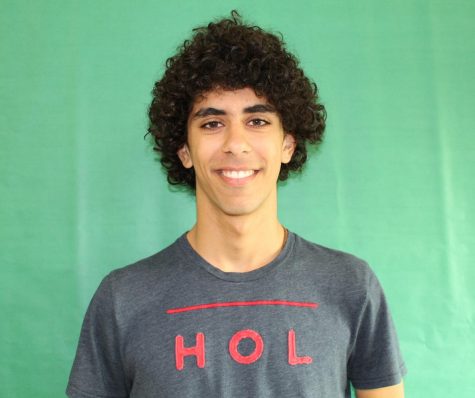 Hisham Rushaidat, Sports Editor
My name is Hisham Rushaidat, but I'm also known as Jordan. I am a senior and this is my second year at Danbury High School. I'm passionate about communications,...