Salutatorian: Joy Hendrix
Hang on for a minute...we're trying to find some more stories you might like.
When it comes to work, there's school for senior Joy Hendrix.
"I treat school like a career," said the Class of 2018 Salutatorian. "You spend like 6 to 7 hours at school and then you have to go home and do homework."
Hendrix has pushed herself to be at her absolute best through her education. She is finishing her senior year ranked No. 2 with a GPA of 4.7698.
Fortunately, Hendrix gains plenty of support from her family. They advise her with basic necessities to do prior to going to school. "My parents tell me to go to bed early and get a good breakfast more than I've ever been told to study hard for a test," Hendrix said.
She explains that her father is even strict with early bedtime schedules for her to get a good night's sleep. "Part of the reason is that it's easier to do well in school for me and I'm more awake during class," Hendrix added.
Over the past three years, Hendrix took many AP classes such as World History, French, and Literature, and much more. She always pursued in going beyond the limit regardless of how long it took. "I don't like being lazy. That's why I like taking challenging classes."
Hendrix also participates in extracurricular activities that take up a majority of her time. "Marching band, robotics, orchestra are my big time consuming clubs," she said. Not to mention, one of Hendrix's main hobbies is "playing the piano at home" and she is also president of the National Music Honors Society.
Senior Gillian Brown, a fellow NMHS member, has had a close connection with Hendrix since middle school. "I don't know how she does it all, but she's a very hard worker," Brown said. "She always puts in her all."
Brown added that she's proud of her friend's achievements and that they "value the time [they] spend with each other" whenever available.
"Obviously, she has a jam-packed schedule," Brown stated. "But I can tell that we're the type of friends who won't see each other for weeks but we still come back together whenever we can."
Out of all of the courses at DHS, Hendrix's top three favorite classes are "AP Chem, AP Calc, and Computer Science." One class that was her least favorite during her high school career was gym. "Gym was hands down my least favorite class," Hendrix said, reflecting on why she is not "a sports person." As for her teachers, she has had the most connection with Diane Mohs, Deb Casey and Victoria Mcclelland.
Casey, an English teacher, taught Hendrix as a student and was delighted by her efforts in the classroom.  "I had AP Literature with her during her junior year. She was a leader in that class," Casey mentioned. "Her insights helped other students understand text in a way that they didn't when they walked through the door."
One of Hendrix's talents she presented in the class was writing. Casey explained that "she is a wonderful poet" and has "contributed work to the Nutmegger," the school's literary magazine.
Hendrix won first place in the Danbury Cultural Commission Poetry Contest last year. Hendrix's writing skills also brought "both intellectual understanding and creative perspective" through her work. "She isn't only smart but very creative and original," Casey said.
Even though Hendrix is a gifted writer, she plans on attending Cornell University next fall to pursue a major in material science, a subject that is a mix of chemistry and physics. She also mentioned that she has an "interest in computer engineering" and is "going to take the intro courses for her first year at the college."
Hendrix's tenacity has led her to a bright future and her character shows it all. "She's not the one that always obsesses about her grade," Brown said. "She just comes to school and is eager to learn. She's never brutal or overly competitive."
Hendrix has appreciated all of the encouragement from her loved ones. Despite her not being ranked as valedictorian, Hendrix is still proud of her success and does not care about the numbers that define her. "Literally what determines whether you're valedictorian or not is numbers," she said, while also giving credit to senior and valedictorian, Julianna Carney. "I think second is pretty good and Julie deserves it."
Casey wants Hendrix to continue practicing her talents throughout her life. "Joy can do whatever she wants. She's got the discipline, intellect, and creativity."

About the Writer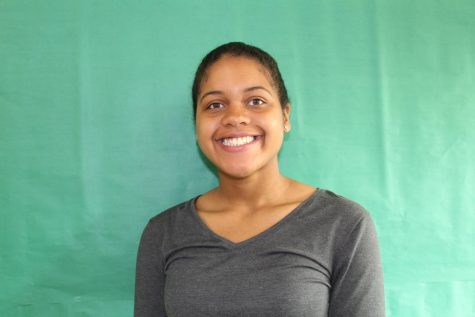 Mikayla Hill, Staff Writer
I'm a senior and I signed up for Journalism because I wanted to learn about this style of writing and improve my writing skills. I love writing and I...