Five Athletes Sign National Letters of Intent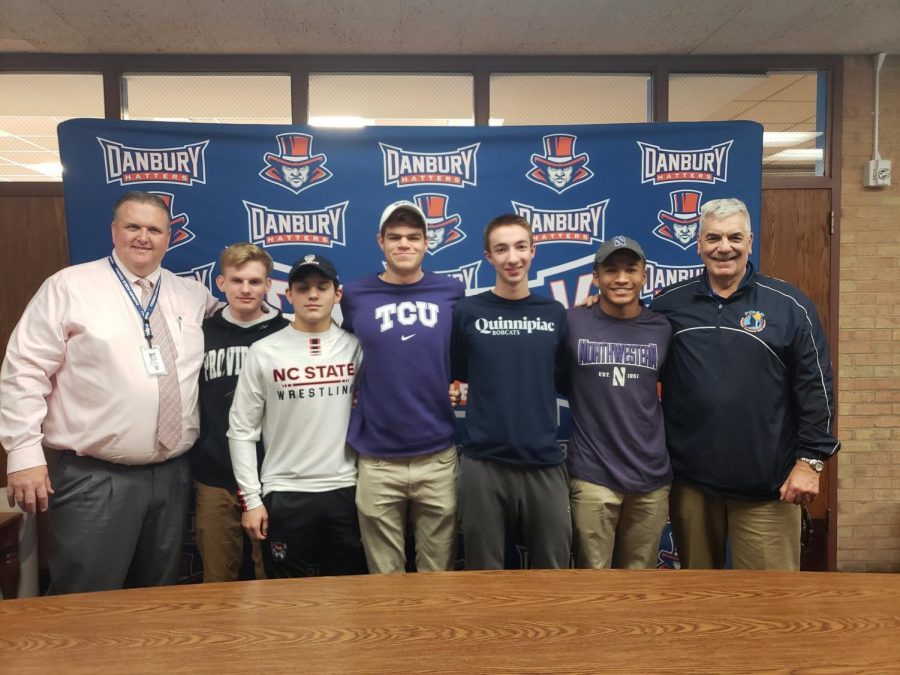 On Monday, November 25th, five Danbury High School Students signed their National Letter of Intent to continue their athletics in college:
Ryan Jack
Wrestling
North Carolina State University
Jack continues the pipeline of Danbury wrestlers going to North Carolina State. Following his brother Kevin, a former All-American, Jakob Camacho and AJ Kovacs, Jack became the fourth former Hatter to head down south to Wrestle for the Wolf Pack.
Tyler Warren
Soccer
Northwestern University
The leader of the Danbury soccer team, Warren was named All-New England during his junior season, and also possesses multiple All-State and All-FCIAC awards. Warren follows his parents, who both played Division 1 soccer at Rutgers, to continue his athletic career in the B1G. 
Jack Watson
Cross Country
Quinnipiac University
After making the switch from lacrosse during his freshman year, Watson became one of the main runners for Coach Rob Murray and led his team on and off the course in Cross Country. He will join former DHS teammate Matt Burke at Quinnipiac. On why he chose Quinnipiac, Watson said, "I felt most comfortable with the team there than compared to other schools and the academic standpoint of QU is very strong and I know I will be getting the best education possible there."
Shayne Simmons
Swimming
Texas Christian University
Shayne Simmons only came to DHS at the beginning of his junior year after two years at Immaculate, where he was the only swimmer and had to practice with Ridgefield. For the first handful of meets, Simmons had to sit out due to the CIAC transfer policy. However, he qualified for FCIACs in his first meet, and he competed as one of the stronger Danbury swimmers. Not only does he want to better his education, but Simmons has lofty goals moving forward: "In my future, I hope to qualify for the Olympic trials for the 2020 Olympic Games in Tokyo. But ultimately, my eyes are set on the 2024 Olympic Games. I also plan on obtaining a college degree in Environmental Sciences to contribute my skills to a good cause."
Quotable: " I was looking for a school that would challenge me both athletically and academically, and TCU exceeded my expectations. Being in one of the most competitive sports conferences, I know that TCU will take me far in my swimming. With the amazing support of coaching and teaching staff, I am confident TCU will help me achieve my goals both in and out of the pool." – Shayne Simmons
Jacob Hefele
Cross Country
Providence University
Hefele was one of the top runners over the last two years for the Hatters. Hefele started to run for Coach Murray in his freshman year. Hefele was named Class LL All-State this year with a strong senior season. Next year, he will head to Providence to run for the Friars.
About the Contributor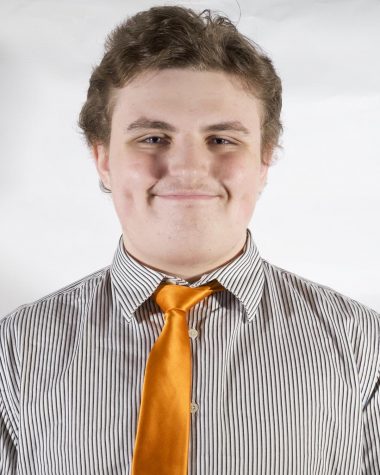 Christian Gardecki, Sports Editor
I am a senior at Danbury High School and this will be my first year writing for The Hatters' Herald. I wanted to join this class because I have always...